I've just updated the turning seat section of Mobilitybasics.ca with information on a couple of products from a Canadian company, Adapt Solutions.
XL-Base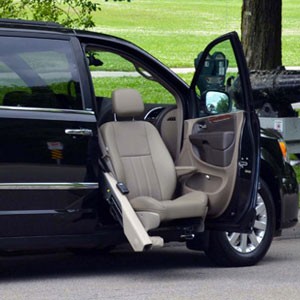 The first product is for their XL-Base. The Xl-Base converts a conventional van seat into a turning seat that will turn and lower users out of the van and features a manual backup system in case of lose of power or malfunction.
The XL-Base reuses the original van seat and mounting holes so that no damage or modifications are done to the van that will affect the resale value of the van.
This turning seat system can be mounted in either the front or mid passenger position of most of todays popular minivans.
Click here for more information on the XL-Base
---
XL-Seat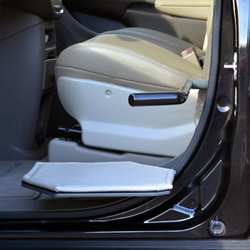 The second product is the XL-Seat which is a transfer device that aids wheelchair users in accessing and exiting the front seats of vans, pickup trucks, SUVs and some crossovers.
The XL-Set folds up between the seat and the door when not in use and the transfer board part of it is removable for easier access by people who don't need a transfer device.
The XL-Seat is mounted using existing the vehicle seat mounting system and does not damage or modify the vehicle in any permanent way.