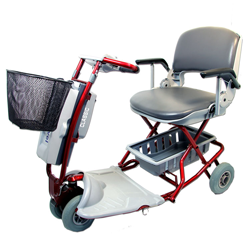 I've just added another mobility scooter profile to the site's scooter section for those who want to see some specific information on specific products.
The EZee Classic scooter is a front wheel drive portable scooter designed to be lightweight, easily foldable and taken apart for easy loading into and out of vehicles. This scooter is ideal for those who want to be able to a take their scooter with them to a mall, park or other venue where there may be a lot of walking involved.
The Easy Classic's best feature is that their small size and light weight allows most people to disassemble and fold it to fit into vehicles without the need of a lift of some sort.
For more information on the EZee Classic please visit: https://mobilitybasics.ca/scooters/-ezee-classic-scooter