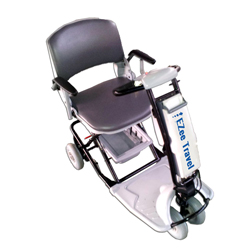 I seem to be on a roll today. I've just added the EZee Travel scooter from EZee Life to the scooter section of the Mobility Basics website for those who want specific information on specific products.
The EZee travel is a portable, lightweight, folding, rear wheel drive mobility scooter that has a weight capacity of 250 pounds.
This scooter is designed to be loaded into a vehicle and taken to places where extended periods of walking may be encountered. Its light weight (59 lb) and small size allows it to fit into most vehicle types.
For more information on the EZee Travel scooter please visit https://mobilitybasics.ca/scooters/-ezee-travel-scooter