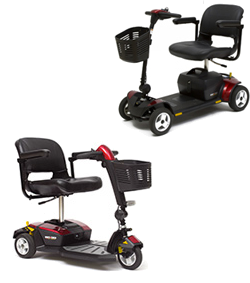 I've just posted a page with information on the Go-Go mobility scooters from Pride Mobility. There are 7 models of the Go-Go scooters with most models offering both a 3 wheeled and 4 wheeled version.
These are small scooters often referred to as portable or travel scooters that are intended to be easy to dis-assemble or fold up to fit into vehicles so they can be transported to the venue where they will be used.
These are not scooters that one would purchase to travel long distances or spend a lot of time on rough terrains.
For more information on the Pride Go-Go scooter visit https://mobilitybasics.ca/scooters/-pride-go-go-scooters