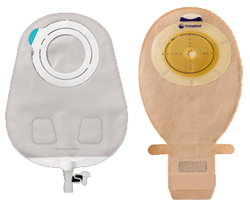 I received a letter today from the Ontario Ministry of Health regarding an increase in the grant amounts paid to Ontario residents who live with an ostomy on a permanent basis.
What's an Ostomy?
An ostomy, for those who do not know, is an opening on the outside of the body from the large or small intestine or urinary bladder. People have ostomies because of injury or disease to the normal path for elimination has been damaged beyond repair. I've had a ileostomy, an ostomy connected to the small intestine, for over 20 years so I'm writing from personal experience.
What is the ADP Program?
A little background on the ADP Program. ADP was created in the 1980s by the Ontario Ministry of Health to aid people financially who require medical devices, supplies and equipment for medical reasons. Initially the ADP Program paid 75% of the cost for these products for all Ontario citizens and the 100% for those on social services. So what would happen was a user would purchase the supplies they needed from an approved vendor and pay their portion and the vendor would bill the ADP portion for their portion.
With ostomy supplies the type and amount of supplies needed can vary greatly between users and the paperwork involved for the vendor and ADP program was excessive considering the average purchase would be between $50 and $100 per month. In the mid to late nineties, I believe, the ADP program moved to the grant system for funding people with ostomies. They determined the average amount a person would pay per year for supplies and decided that $600 per year would be about 75% of the costs most users would face. So they then began sending ostomy product users cheques, or direct deposits, for $300 twice a year. Those on social assistance received $450 twice a year (100% of the average cost).
My problem with this grant system is that although the costs of supplies was going up every year the grant amount never moved. While it was intended that ADP would cover 75% of the cost, the amount they have actually be covering has been dropping yearly to a point where the amount is probably less than 50% for most users.
How Much Did They Increase the Grant?
So you can imagine my surprise when I received a letter last week that announced that those receiving 75% grants were now going to be receiving $393.25 twice a year, backdated to last May 15th of this year and those receiving 100% would be receiving %25 twice a year.
You can't imagine my further surprise when I read further that as of September 2016 the rate would be increasing to $975 per year in two payments of $487.50 and those getting 100% will be getting $1,300 per year.
What Else Do ADP Cover?
ADP covers many medical devices and products:
Communication Devices
Diabetes Supplies
Enteral Feeding Supplies
Hearing Devices
Orthotic Devices
Ostomy Supplies
Pressure Modification Devices
Prosthetic Devices (Breast, Limb,Ocular, Maxillofacial)
Respiratory Devices
Visual Devices
Wheelchairs, Positioning and Ambulation Aids
Some of these products are covered by grants and some still get 75% coverage. If the Ostomy supplies grant has increased then I suspect the others have, or will soon.
If anyone has information on other funding news for ADP, or other funding source, I'd be happy to post the details.
For more information on the ADP Program please click here: ADP Program
Dave
PS: Thanks ADP!