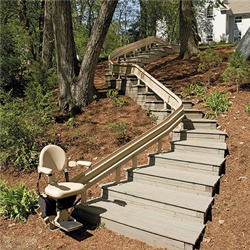 I've now updated the Savaria and Bruno products in the Stair lift section of the Mobility Basics website. The discontinued models have been marked as discontinued and the replacements and new products have been added for these companies.
I leave the discontinued products online for those who may need information about them. My feeling is that people considering purchasing used products will find the information helpful in making their decision.
Most manufacturers quickly remove all information on discontinued products from their websites completely ignoring the used equipment market. This makes it difficult for anyone wanting to buy a used unit lacking in information on features and specifications the units they are considering.
The latest updated information can be found in the stair lift section of Mobilitybasics.ca