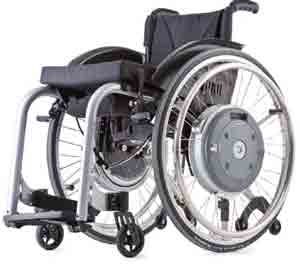 I've just added a new product page to the Mobility Basics website about the power add on wheels from Invacare. These wheels are battery driven and can be added to many different makes and models of wheelchairs the make propelling the chair easier for the user.
The wheels are operated by pushing on the handrims and can greatly increase the speed of the chair and the power of the user. The combined improvement in propelling the wheelchair leads to more independent use and much reduced fatigue.
The e-Motion wheels can be pushed as regular wheels are pushed and activated when needed for enhanced propulsion or kept activated all the time for constant assistance.
Click here to get more information on the Alber e-Motion Wheels.