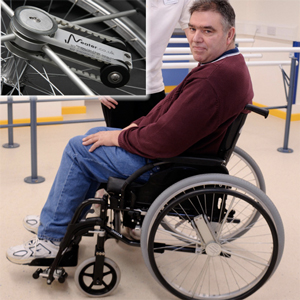 I've recently been looking at propulsion aids for people who have limitations that make propelling a wheelchair difficult. The last few wheelchair devices I added to the site were to make propulsion easier by using motors. Today I've added a page on the Neater Uni-Chair.
The Neater Uni-Chair is designed to provide people who only have the use of one foot and one hand independent mobility in a manual wheelchair. The Uni-Chair uses a single handrim that propels both wheels through a specialized differential and a movable footplate that allows the user to steer the wheelchair with their foot.
This chair is manufactured in the UK but is available in North America through their US distributer.