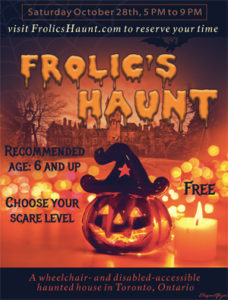 I got notice of this this morning in my email.
It's a great idea for people with accessibility issues who would like to experience a halloween event in the Toronto area. This is a tour through a fully accessible haunted house.
I've quickly scanned their site and participation in this event is free of charge although donations will be happily accepted.
You can predetermine how scary and how much involvement you will have prior to starting the tour.
This event is for one night only and it is is very important to reserve a space for you and your friends. They are limited to one night and showing up without a reservation may lead to disappointment if they can't fit you in.
For more information visit the Frolic's Haunt website.