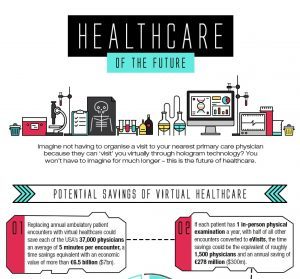 I received an email the other day from our friends at Home Healthcare Solutions in Ireland that contained an Infographic they have created on Virtual Health Care and asked me to share with our visitors.
I can see the value and many of the benefits of Virtual Health Care and agree wholeheartedly that we can use technology to increase productivity in the healthcare field and save time and money for patients.
This infographic, which can be seen in full on their blog or can be downloaded here as a .pdf, discusses the monetary and time savings that can be achieved by doing medicine in a new way.