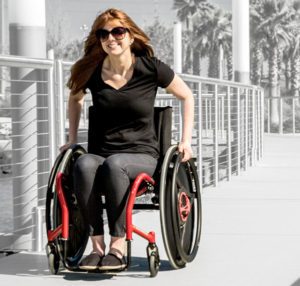 I've added a page to the wheelchair section of the site today with information on Rowheels replacement wheelchair wheels. I came across these wheels when researching different types of alternative drive systems for manual wheelchairs and thought this was something many people may be interested in.
These wheels provide benefits to the user in terms of more efficient wheeling, improved posture, reduced shoulder injury, strengthened back muscles and improved range of motion.
These wheels, as the name suggests, propel the wheelchair when the user turns the hand rims backwards. Like a rowing a rowboat, the user pulls backwards to propel the wheelchair forward. The difference is, of course, the wheelchair user will be facing the direction they are going.
There is a lot of data and studies to support the theory of pulling back to propel forward and when I think about how one propels a wheelchair it actually starts to make sense.
While pulling backward to propel forward may have many benefits, I'm not sure that these are wheels that a long term wheelchair user could easily change over to. I'm sure the learning curve experienced by user will vary greatly and new wheelchair users will probably have less issues with this departure from normal wheel chair propulsion.
For more information on the Rowheels wheelchair wheels please visit https://mobilitybasics.ca/wheelchairs/-row-wheels