See what's new!
Visit our blog.
---
(Paid links not related
to page content)
Online Vendors
US Online Vendors
New Products: - The products in the "New Products" section of our web site are presented for informational purposes and while we believe them to be helpful and of good quality it is up to the purchasers to determine the suitability and value when purchasing.
Added: June 4th, 2013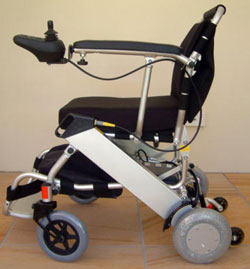 Portashopper Power Wheelchair
Portashopper Portable Power Wheelchair
The Portashopper portable power wheelchair is a very small and lightweight folding power wheelchair. While not suitable for all day, every day use the portashopper is a excellent option for shopping trips and errands where a powered mobility device is needed for independent mobility.
The Portashopper is constructed of an aircraft aluminum alloy, weighs about 40 pounds and is avialble in 3 finishes (silver, bright yellow or burgundy).
There are two models available, Portashopper I with fixed arms and Portashopper II with flip-up arms.
Power Supply
The Portashopper is powered by a 24 volt lithium ion battery that can provide up to 15 km of driving on a 5 hour charge and is 60% lighter than conventional wheelchair batteries. For users who require more range a second battery can be purchased and carried in a holder mounted on the wheelchair.
A unique feature of this product is the availability of optional alternative battery chargers:
Car charger - The car charger will provide a 95% charge in 2 hours and a full charge in 5 hours when plugged into a vehicle power outlet.
Solar Charger - When set up facing the sun the solar charger will recharge the battery in 5 hours.
By having a spare battery the user can always have a battery charged while still being able to use the Portashopper.
Images
Click on images to enlarge and reduce.
Portashopper Features
Transportable on all vehicles - transport friendly lithium batteries
Goes 15KM (9.3 Miles) per charge per battery
Easy to lift - lightweight and folds compactly
120KG (264lb) weight capacity
Easy Side Transfers - with rugged Flip-Up Armrests (on portashopper II)
Tight manoeuvring - needs only 60cm (2ft) wide passageway
Powerful Motor for climbing steep ramps and hills up to 12 degrees with ease.
Opens and unfolds almost effortlessly - with optional "pop-open" spring assist kit
Optional attendant control allows the chair to be driven by a caregiver
Internationally Supported 3 Year Exchange Warranty
Extremely easy to control
Delivered fully assembled
Seat & back cushion included
Specifications
seat width - 40cm
width between arms - 45cm
armrest height - 24cm
seat height - 49cm
back height - 36.5cm
maximum speed - 7.8 kph
maximum range - 17 km
overall size - 79.5 x 570 x 84cm
overall size folded - 57 x 29 x 690cm
maximum gradient - 12°
charging time - 5 hours
Warranty
Failed items will be repaired or exchanged as required within warranty period.
Warranty period for frame - 36 months
Battery - 24 months
Motor - 36 months
Controller - 12 months
Wearable items (tires, upholstery etc.) - 3 months