New Products: - The products in the "New Products" section of our web site are presented for informational purposes and while we believe them to be helpful and of good quality it is up to the purchasers to determine the suitability and value when purchasing.
Added: March 20, 2013
Action All Terrain Trackchair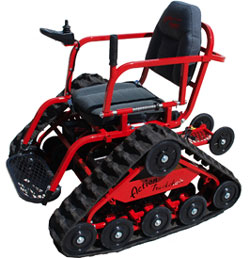 All Terrain Action Trackchair
The Action Trackchair is truly an all terrain wheelchair for those who want to go where conventional wheelchairs wouldn't have a chance. It's design uses the electronics of a conventional power wheelchair but instead of the motors powering a pair of wheels they power a pair of tracks.
The trackchair was is manufactured in the US and available in Canada from Action Mobility Inc. in Cambridge, Ontario.
History of the Trackchair
After 30 years of being in the recreational motor sports business, Tim Swenson decided to help people to have the freedom of getting off the normal path. He started developing this all terrain wheelchair in 2008, and called it the Action Trackchair.
Tim and Donna have a son Jeff, who is in a chair, and know of many other friends that would love the freedom of hunting, hiking, going to the beach, fishing, and other similar activities. The Action Trackchair enables people to have access to those types of activities.
Models
The Trackchair is available in two models, four upholstery colours and fourteen optional frame colours. There are also a variety of options to make these chairs more functional and to accommodate the needs of various outdoor activities.
Trackchair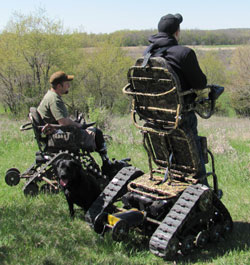 Trackchair & Trackstand
The standard Trackchair is available in 5 seat widths from 16" to 24" in 2" increments. The overall width varies with the seat size from 37" to 43" so you won't be going through any conventional doorways but it was never intended to be an indoor chair. The overall width of the chair will provide a stability not found in normal power wheelchair and needed in rough terrains for safety.
Trackstander
The Trackstander is very similar to the standard Trackchair but includes a seat frame that will stand the user up when needed. The Trackstander comes in 18" or 20" seat depths and only two widths, 16" or 20".
Trackchair Specs
Action Trackchair
Height
39 Inches
Width
16" to 24"
Length
42" / 48" with Rear Idlers
Weight
350 lbs Approx.
Seat Height
23 Inches
Tilt Angle for Chair
20 Degrees Each Way
Track Size
6.5″ x 90″
Batteries
Two 12 Volt Wheelchair Batteries
Controls
Joystick Wheelchair Controls
Motors
24 volt DC 24:1 ratio high thrust motor
Speed
4-6 kph
Turning Radius
Zero
Width Between Armrests
37" to 43"
Ground Clearance
3.5 Inches
Battery Charger
12 Amp
Range
Variable up to 11 Kms
Foot Rest
Adjustable Standard or Flip up
Accessory Holders
Two on each side and two on back of chair
Lap Belt
Standard
Warranty
One year (5 years on welding & track)
Trackstander Specs
Action Trackstander
Height
43" lowered- 60" raised
Width
16" or 20"
Length
42" / 48" with Rear Idlers
Weight
390 lbs
Seat Height
25"
Tilt Angle for Chair
5 degrees forward--20 degrees back
Track Size
6.5″ x 90″
Batteries
Two 12 Volt Wheelchair Batteries
Controls
Joystick Wheelchair Controls
Motors
24 volt DC 24:1 ratio high thrust motor
Speed
4-6 kph
Turning Radius
Zero
Width Between Armrests
37" or 39"
Ground Clearance
3.5 Inches
Battery Charger
20 Amp
Range
Variable up to 11 Kms
Foot Rest
Adjustable
Knee Support
Adjustable
Three Point Belt
Standard
Warranty
One year (5 years on welding & track)
Images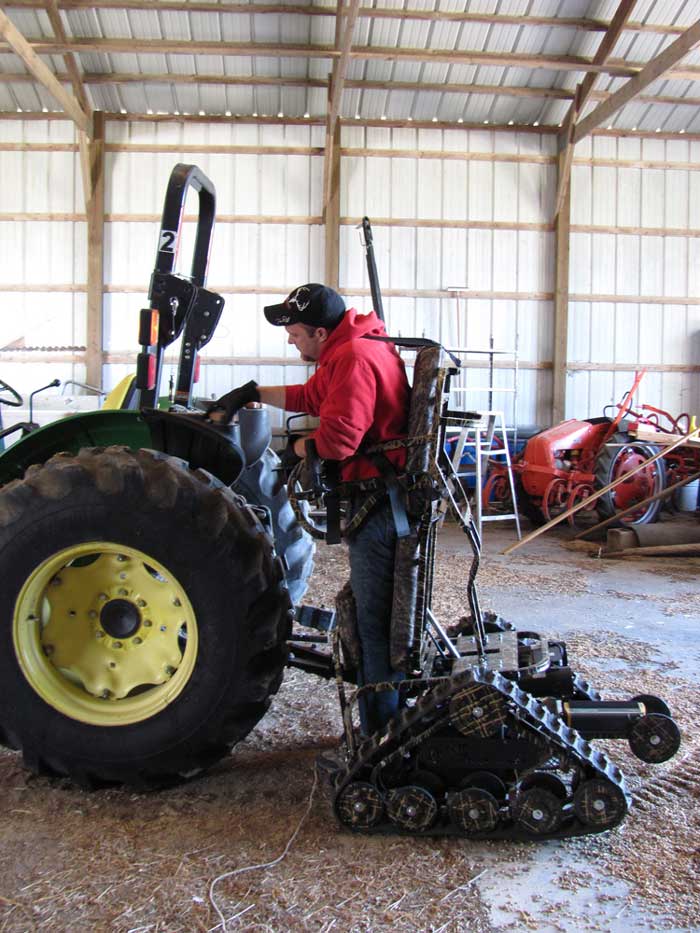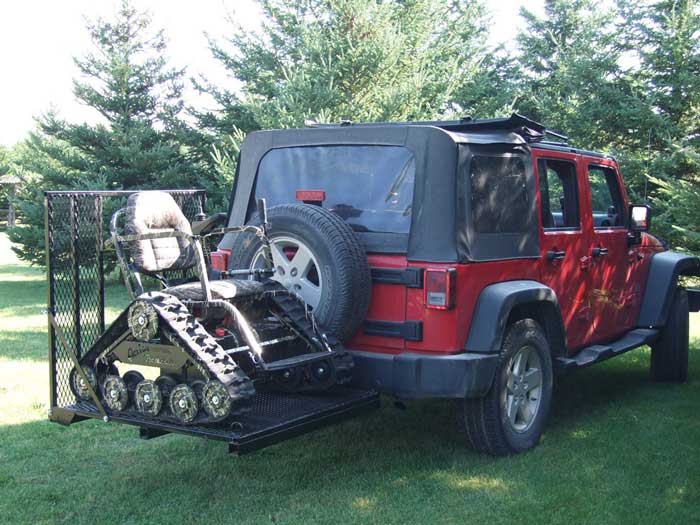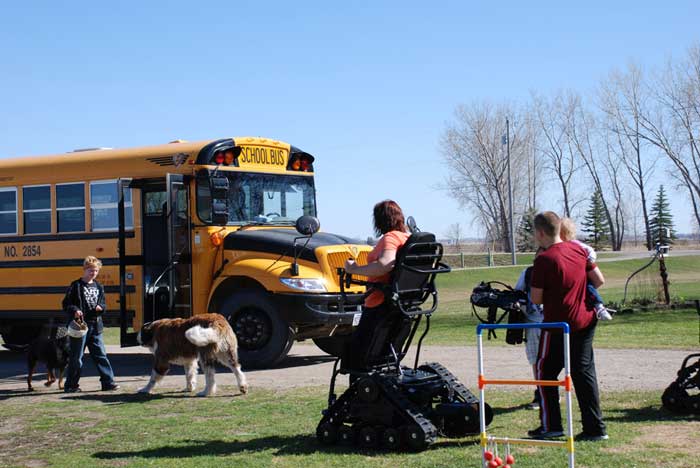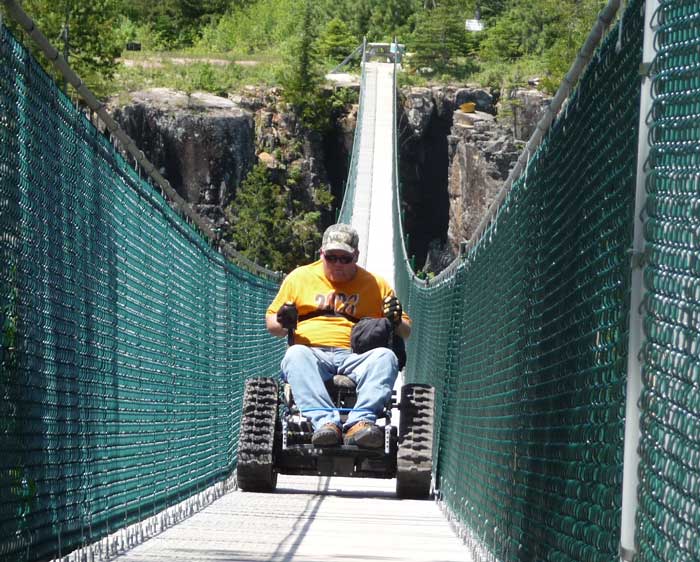 Canadian Distributor
Action Mobility Inc.
25 Four Winds Drive
Whitby, ON
L1N 9R8

Phone: 519-501-1084
Email:info@actiontrackchair.ca
For more information please visit http://www.actiontrackchair.ca/