Six Way Powered Seat Bases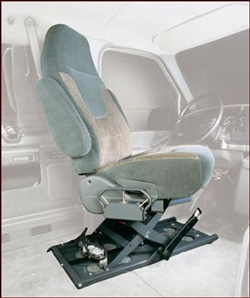 Ricon 6 Way Power Base
Six way power seats are designed to allow wheelchair users to tranfer from the back of a van into one of the front seats. They move foward and backward, rotate towards the center of the van and back facing the front and rise and lower as needed. All functions of the 6 way seat are done electrically.
Using a 6 Way Power Seat
What normally happens is the wheelchair user will access the rear of the van using a van lift and the front 6 way seat (drivers side or passenger's side) slides all the way back in to the rear of the van to allow the user to transfer onto it.
Once they've transferred, the user rotates the seat to face the front of the van and moves it forward up into position for driving or the normal passenger position. At any time the seat can be adjusted for height as needed.
Installation
There wil be minor variances in how the six way power seats are installed but below is an overview of the basic procedure for installation.
The original equipment van seat and it's base are removed from the van.
The 6 way power seat base is bolted into place where the original seat base was found.
The seat base is connected to the vehicle electrical system.
The original equipment vehicle seat is remounted on the new power base.
Funding Information
These seat bases may be eligible for funding from the car manufacturers when a new van is purchased. Amounts and terms vary between vehicles and manufacturers. You can find more information here: Canadian Medical Equipment Funding Sources