Turning Seats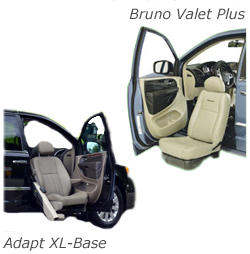 Turning seats are available from a couple of different manufacturers in several different models. They all involve removing the vehicle's existing seat and replacing the base with a motorized base that swivels out the door to allow easier access and departure from a vehicle.
Depending on the model and application the powered turning seat may have its own seat or may use the existing seat in the vehicle.
There are models that are available for the drivers side or passenger side of the vehicle and most will operate in the mid position of vehicles that have bucket type seats in that position.
Most of these seats are eligible for funding from the car manufacturers when a new car, van, SUV, CUV or pick up truck is purchased. Amounts and terms vary between vehicles and manufacturers. You can find more information here: Canadian Medical Equipment Funding Sources
For more information and some specifics about some of the turning seats available you can visit the following pages:
Adapt Solutions Products
Bruno Products