Patient Lift Information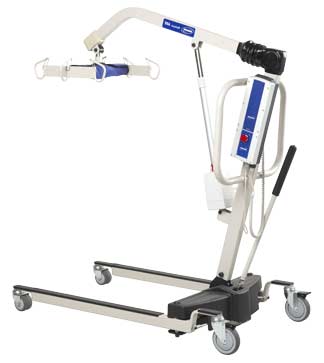 Patient lifts are more transfer aids that help people get into, or out of, beds, baths, wheelchairs or up and down stairways. Patient lifts are intended to lift the patient only where wheelchair lifts may lift the patient and their wheelchair or scooter.
Equipment Informational Fact Sheets
The information published is from my personal experience selling and servicing medical equipment over more than 20 years. The information is about the equipment and is intended to educate our visitors of the features that are available so they will be able to make a more informed decision when making purchases of patient lifts.
Specific Equipment Information
We have also provided specific information many makes and models of lifts.This information has been gathered directly from the manufacturers' publications and dealers. While we believe all the equipment shown on our site is of the highest quality we do not endorse any of these products or the retailers who sell them.
Seek Dealer Advice
Because of the great variations in the conditions of the patients and the abilities of the caregivers, a lift that works perfectly for one person may be inappropriate for another in spite of a common or similar disability. The information on our site will provide you with information to help you compare products but it's advisable to have the dealer you are purchasing this equipment from help guide you with more specific Information. It may be necessary to actually try a patient lift before knowing if it will be suitable or not.
Purchasing Featured Equipment
We do not sell any products or services. This web site is an informational web site only. Many of product pages will have links to advertisers who sell the featured product. While we do have affiliate agreements with some of our advertisers, we do not recommend one supplier or dealer over another. You will find these online dealers advertise their pricing which you may find helpful when comparing products. For those who prefer to purchase products from local dealers check your Yellow Pages under "wheelchairs". Most wheelchair dealers also sell patient handling equipment.
Wheelchair and medical supply companies which sell these products are supplied with suggested retail pricing by the manufacturers but are not required to use this pricing. Dealers are free to sell these products for any price they like, so it's always advisable to shop around a bit to find the best prices. Also bear in mind that the lowest price is not always the best deal. If you save a few dollars by using a dealer with a bad after sale service, you may have wished you'd paid the extra money to a more reputable company.