Walking Aids - Crutches
Crutches are designed to be used in pairs and are a option for people who don't need or want to use a walker but can't use a canes. More often than not, crutches are used for short term or specific uses but there are some who will use crutches on a daily basis.
The most common crutches are adjustable height wooden models with adjustable hand holds. These are often sold at hospitals and clinics for people who suffer breaks or sprains of the legs, knees, ankles, feet etc. They are inexpensive and adjustable enough to be set up to fit almost every user. For very tall or short people wooden crutches are manufactured in short or tall versions also.
Ice tips can be added to crutches for use in icy conditions but caution should be used as much more weight is put on crutches than on a cane.
Whereas with a cane the weight of the user is supported through the arm or arms, with conventional crutches the weight is primarily supported by the underarm pads and the arms are used for control. The crutches are moved forward in unison while the user's weight is supported by one or both of their legs. Once the crutches are securely positioned forward the user will move their body forward through the crutches to the forward position.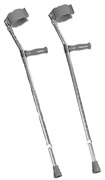 Conventional crutches are also available in aluminium but I know of no discernible advantage to aluminium over wood although they may be a little bit lighter in weight.
Forearm crutches are basically canes which extend up the arm and cup around the forearm. They allow for more support than a cane but are less supportive than a pair of conventional crutches. People who can use them will find them less cumbersome than conventional crutches.
There is a knack to using crutches that takes some practice to master. The company or organization who sell you your crutches should take some time to explain the use of them and some instruction from a health care professional would be in the best interest of the user.