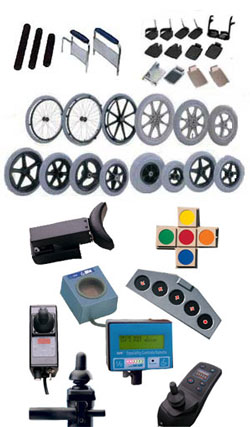 Wheelchair Components
There are many decisions to make when purchasing a wheelchair and most of them concern the choosing of the components that will work best for the user. While the components are similar between the different makes and models of wheelchairs there are some subtle differences that may be important for comfort and functionality.
"Components" for the purposes of this web site refer to items that are normally found on user's wheelchairs and are normally chosen when ordering a new wheelchair. Individual components can vary in size, type and style and include things such as armrests, footrests, footplates, seat and back styles, wheels, casters, tires and the sizes of some of these components. Manual wheelchair components also include things like axles, hand-rims, wheel locks and power wheelchairs include things like joysticks, joystick mounts, gimbals, battery sizes and control types.
Not all components or their specifications as described are available on all models but these are the most common components a wheelchair purchaser will come across when making decisions.