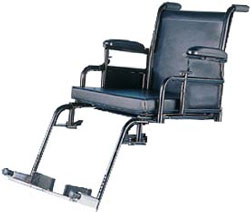 Wheelchair Seat Frames
Wheelchair seat frames are pretty straight forward but there are a few things that must be considered when purchasing. The picture here is of a seat frame with the arms and footrests attached but they are removable for transfers and not really considered part of the seat frame of the wheelchair.
The standard seat frame for a wheelchair consists of simply a seat and attached back rest without arms or footrests however if the wheelchair arms are fixed (not removable) then they are part of the seat frame as well. Older wheelchairs and some institutional wheelchairs are the only chairs seen these days with fixed arms.
Reclining Back
Reclining backs are hinged where they meet the seat and can be reclined to almost any angle up to 180°. To reclining the back the caregiver pulls a trigger mounted on the push handles, reclines the back to the desired angle and released the trigger to lock the back in place. For more information on reclining wheelchairs please click here.
Adjustable Back Seat Frame
Adjustable backs on wheelchairs allow for a certain amount of reclined to be set on the seat frame for comfort or positioning. Once set, the back cannot be readjusted without tools and this type of back is not designed to constantly changed. generally and adjustable angle back can recline from 90°(vertical) to about 110°.
Tilting Seat Frame
A tilting seat frame on a wheelchair will tilt the user back up to about 45° depending on the model of wheelchair. Tilting a user keeps the hip angle in the same position when tilted where recline opens the hip angle. Tilting a user is helpful to alter pressure points and center of gravity which reduces the chances of pressure sores. A caregiver has to operate the tilt on a manual wheelchair. For more information on manual tilting wheelchairs please click here and click here for power tiliting wheelchairs.
Sizes of the Seat Frame
The seat frames of most wheelchairs are available in many dimensions for the seat width, seat depth and back height. Standard seat widths are 16", 18" and 20" for adults and seat depths are usually 16" or 18" although many other sizes are available on some models. Back heights can be anywhere from 16" to 20" depending on the model chosen.
For more information on sizing wheelchairs please click here.