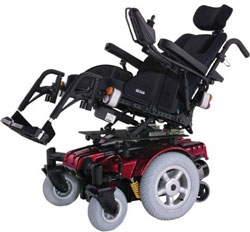 Drive Medical Power Tilt System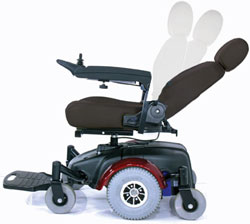 Drive Medical Image EC with Recline Seat
Power Tilt & Recline Wheelchairs
Power Tilt and recline wheelchairs are actually seating systems rather than complete wheelchairs. When a user needs a power tilt, power recline or combination tilt/recline they will choose the seat system they require and then choose a power base that is compatible with the power seating system they need.
The electronics and seat actuators are powered by the wheelchair base batteries and the controls are often integrated into the wheelchair driving controls for simpler operation by the user.
How does Tilt differ from Recline?
There is sometimes confusion on the difference between tilt and recline when it comes to wheelchairs. Tilt is when the the entire body is tilted backward while keeping the hip and knee angles constant throughout the motion. Reclining on the other hand involves only the user's back which is laid back, possibly until horizontal, opening the hip angle while leaving the user's lap and bottom in the original position.
Power tilt is the most common power seating option for most users and a combination of tilt and recline is fairly common for other users but recline only is virtually unheard of.
Benefits of Tilt
The type of person power tilt seating systems are intended for are generally difficult to seat comfortably, subject to skin breakdown and pressure sores, are unable to sit upright for extended periods of time or a combination of these issues.
I'm a great fan of power tilting wheelchairs for anyone who is subject to pressure sores. No other wheelchair seating system will allow the user to change their weight distribution and pressure points regularly without the help of a caregiver.
Benefits of Recline
Reclining a wheelchair back does not offer much in the way of benefits and there are some inherent problems when a wheelchair user is reclined. That said, there are situations where being able to recline the wheelchair in addition to tiling that are important for some users. Urinary catheterization can be done in wheelchairs that recline without having to be transferred and some users just find it helpful to be able to stretch out flat in their wheelchairs for rest periods.
Wheelchairs that recline should always be equipped with elevating legrests as being reclined without leg elevation can become very uncomfortable for the wheelchair user.
Another area where a reclined back on a wheelchair is beneficial to the user is when they can't flex their hips to 90° and their seating needs to be set up with some recline built in. This can usually be achieved in a fixed position with power tilt wheelchairs without the need for having a moveable back support.
The Down-Side of Reclining
There are a couple of problems with reclining a wheelchair. One is that when the back is reclined, forces are exerted on the user's sacrum called shearing and this shearing force can cause discomfort and skin breakdown fairly quickly. Another problem when a wheelchair user is reclined is the back of the user will side on the wheelchair back as they are lowered. So, if the user requires a moulded back support they will quickly be out of position and uncomfortable.
Also, when the back is elevated back to it's original position, instead of the user sliding on the backrest again to return to their original position the back will actually try to push the user forward out of their seat leaving their positioning totally messed up. There is also the danger of triggering spasticity in the user when a wheelchair is reclined.
Anti-Shear Backs
Anti-shear or zero shear back supports are the solution to the problems associated with reclining a wheelchair backrest. This back support option slides up and down the back posts of the wheelchair when the user is being reclined or returning to upright. When set up properly, the anti-shear back will stay in contact with the user's back eliminating the shearing that would normally occur. The anti-shear back also has the benefit of allowing the use of contoured backrests.
Power Legrests
Power elevating legrests are a definite necessity for user's who have power reclining backs for their power wheelchairs. Reclining in a wheelchair will never be comfortable unless the user's legs can be elevated at the same time. Of course, manual elevating legrests will work but the user cannot operate manual legrests themselves. If you are going to have a power wheelchair with power recline on it and an automatic anti-shear back support to provide the user with independence, not having power legrests would mean the caregiver would have to be in attendance.