Power Wheelchair Options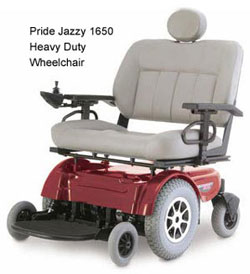 Many of the options you normally get to choose on a manual wheelchair are dictated by the configuration of the power chair you choose, however there are a few things that can be chosen to make the chair more functional for the user. Arms and footrests are virtually identical to those of manual wheelchairs which you can view at footrests and armrests.
Swing-away Joystick Mounts
Swing away joystick mounts are devices which allow for the moving of joysticks so the user can get close to desks and tables. The use of a tray on power wheelchairs is not easy without the option of swinging the joy stick out of the way. Joysticks are normally mounted ahead of the arm of a power wheelchair but when swung away they are located beside the side of the arm towards the back of the chair. Swinging the joystick back out of the way does not prevent the chair from being driven by the user.
Flat Free Inserts
Flat free inserts are solid inserts which fit inside an air tire in place of an air tube. With flat free inserts the user does not have to worry about getting flat tires but when the tire wears out, it's very difficult to change the tire.

Batteries for Power Wheelchairs
Batteries for power wheelchairs generally come in 3 different sizes, U-1, 22NF and group 24 in order of size from smallest to largest. These batteries are 12 volts each and two are required by most power chairs hooked up in series to supply 24 volts to the chair. Most wheelchair batteries are sealed lead acid or sealed gel as they are low maintenance and accepted on airplanes where conventional lead acid batteries must have their acid levels monitored and cannot be transported on planes. The larger the battery, the more power available for the user between charging but choice of battery may be dictated by the choice of wheelchair. Wheelchair electronics are very sensitive to power fluctuations and if the wheelchair begins acting abnormal the first thing to check is the condition of the batteries. Wheelchair batteries are warranted by the battery manufacturer for 1 year but usually last 2 to 3 years. Batteries must be replaced in pairs. Wheelchair batteries are deep cycle and designed for wheelchairs. If a user purchases conventional batteries from an automotive store, as I've seen customers do, the chair will not work properly for long.
Joystick Gimbles
There are a variety of different shaped knobs for a joystick gimble including but not limited to a ball shape, a football goal post shape, a straight stick etc. Changing the shape of the gimble knob is a benefit to those have trouble holding onto a standard knob.
Attendant Controls
Attendant drive controls are an option where a remote joystick is mounted somewhere on the back of the wheelchair for use by a caregiver. This is a helpful option when, for whatever reason, the user is unable to safely maneuver the wheelchair.
Frame Colours
Although not promoted by some dealers, the colour of the power wheelchair frame is an option with several choices. Dealers sometimes ignore mentioning this option because most would rather sell what they stock and stocking multiple colours is not fiscally prudent. That said the, end user can sometimes save a bit of money and get faster delivery by purchasing a frame colour the dealer has in stock.
Electronics Packages
There are sometimes multiple electronics packages or motor options available but decisions on these options are usually dictated by chair model and configuration and the current, and future needs, of the end user.
Some models of power wheelchairs offer heavy duty motors and electronics designed for users of heavier weights or due to terrains which require extra power.