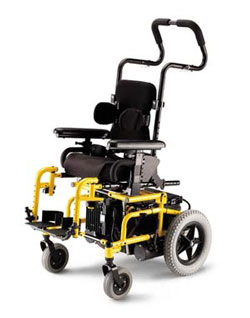 Invacare Power Tiger Pediatric Wheelchair
Pediatric Power Wheelchairs
Sometimes kids need power wheelchairs too. It isn't something most people like to think about but many children who are not able to propel a manual wheelchair can often find some independence by using a electric wheelchair just as many adults do. Powered wheelchairs for kids do not differ significantly from adult powered chairs except they are smaller and usually have some growth adjustment built into them so they can be adjusted as the child grows.
Choosing to prescribe or buy a power wheelchair for a child is something that requires a little more thought than would normally occur with an adult. First and foremost, will the child understand how to drive the power wheelchair, be physically able to drive the wheelchair and be cognitively aware enough to be safe driving the wheelchair for both themselves and others?
While the overall size and weight of a pediatric power wheelchair can be much less than an adult version the chairs still have to power to do damage to furniture, people and pets if the child isn't safety conscious or has temper tantrums that they can't control.
Pediatric power wheelchairs are available in the same configurations as the adult versions. They can be mid wheel, front wheel or rear wheel drive. They can tilt, recline and/or elevate for those who require these features. They can be very basic with very basic electronics and seating or they can be very complicated with high end electronics and very complicated seating systems. They can be relatively inexpensive or very expensive.
Seating systems for kids can be as simple cushion or have many parts and configurations but one thing is fairly certain, they won't last long for most kids who are growing. When choosing a power wheelchair for a child it is important that the seating has some growth adjustability just like the wheelchair itself, even if it costs more. It is better to spend a 20% or 30% more for a seating system with growth adjustability than to have to buy a whole new system every year.
Batteries and Performance
Pediatric power wheelchairs are smaller over all then their adult counterparts and kids in general usually weigh less than adults so the batteries tend to be smaller for these models but the range, power and overall performance are comparable or even better in many cases. Unless the batteries are quite old and worn out, it is unlikely a child will be able to completely deplete the charge in their batteries during daily use.
Speed
Because the motors and electronics used in kids power wheelchairs are usually identical to the adult versions the speeds will be the same with the high speed models getting up near the 8 mph range. But because these are children driving these wheelchairs most parents, therapists and dealers will program the wheelchairs to reach a maximum speed that is safe for the child and others.
Seat Frames
Seat frames will almost always be adjustable in width and depth to allow for growth of the child. The seat frame can often be available as tilting or reclining seat and be either manual (for use by a care giver) or powered (for independent use by the child. There are limits to powered tilt and recline because of the smaller frames on kids chairs and the smallest models may be restricted to manual tilt and/or recline.
Frames and Weights
There are three basic frame designs for power pediatric wheelchairs; front wheel drive, mid wheel drive and rear wheel drive and most will weigh between 100 lbs. and 250lbs. The weight of the batteries, accessories and optional equipment chosen will have to be added to these numbers to determine a total wheelchair weight.
Mid wheel drive wheelchairs will be more manoeuvrable indoors and small spaces but harder to control at higher speeds. Rear wheel drive frames are more stable and controllable at higher speeds but have a larger turning radius and harder to manoeuvre indoors.
Turning Radius
The turning radius is the amount of free space required in each direction around the power wheelchair when turning a complete circle. The radius is one half of the diameter of the total circle. The smaller the turning radius, the more manoeuvrable the power wheelchair will be indoors.
There are several factors which affect the turning radius on a power base. In addition to the frame length, we have to take into account of how much the footrests extend beyond the front and rear of the wheelchair frame. The seat position and size, plus the footrest type and angle all will have a bearing on turning radius.
Weight Capacity
Weight capacities for pediatric powered wheelchairs will usually be somewhere between 100 lbs. and 250 lbs. depending on the model chosen.
Wheels
The wheels and casters will vary between models depending on whether the power wheelchair is actually a pediatric design or a scaled down adult model however they wheels do tend to be smaller when a chair is prescribed for a child. The drive wheels could be anywhere from 10" to 14" and the casters will most likely be around 6" in diameter.