Travel/Portable Scooters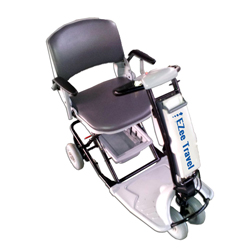 EZee Travel Scooter
Travel, or portable mobility scooters as they are sometimes known, are designed to be easily disassembled and loaded into a vehicle for transporting. The designers of these small scooters expect them to be used for shopping trips to local stores and malls on hard surfaces which are smooth and solid such as floors and sidewalks.
These scooters are not designed for hours of comfort, great stability, long range travel or rough terrain. In order to have an electric scooter which is easy to disassemble, re-assemble, load, unload and lift into or out of a car or van the attributes which make the larger scooters popular have to be sacrificed in these small scooters.
Wheel Configuration
There are two types of wheel configuration regardless of the scooter size. The choices are three wheeled or four wheeled and each has its own benefits and drawbacks. Three wheel scooters turn sharper, are lighter, are more manouverable and tend to go a bit farther on a battery charge but can be a little less stable when turning at higher speeds. Four wheeled scooters are more stable, work better on rough or soft terrain and have a bit more leg room but don't manouver in small places very well, cost more and are quite a bit heavier than the three wheel models.
Batteries
In order to keep the weight down, portable scooters use smaller batteries than the larger scooters which limits the speed to around 4 miles per hour and the range of travel to around 10 miles. These values are the probably the most optimistic values that can be expected as the weight of the user, the number of inclines which will be traversed and condition and age of the batteries will all have a limiting effect on the scooters performance.
As with any scooter or power wheelchair these scooters are charged with automatic battery chargers which simply plug into the machine. Depending on how depleted the batteries are, it may take 5 to 8 hours to fully recharge and most people plug them in at night to be ready for the next morning.
Frames
The frames for travel scooters are of light construction to keep the weight of the scooter and its individual components as light as possible. To further reduce weight, the frames of portable scooters are both narrower and shorter than standard scooters which makes them a little less stable side to side and limits legroom. In spite of this smaller lighter frame, the weight capacity of these scooters is usually around 300lbs. and when used for the purpose they are designed for stability isn't usually an issue.
Tires
The tires on these scooters are normally 8" in diameter and will be either solid rubber or foam filled. Foam filled tires are basically air tires which are filled with a spongy type of foam instead of air. The advantage of foam filled tires is they give a more cushioned ride than the solid tires and have a more pronounced tread but the tread will wear off and replacing foam filled tires can be more expensive than replacing solid tires.
These tires are narrower and have a smaller diameter than most other types of scooters and aren't very good on soft surfaces such as sand, grass, snow, gravel etc.
Seats
In order to keep the weight as low as possible the seats on these portable scooters are pretty basic and not intended for long periods of sitting. They are removed when the scooter is disassembled for transporting and to keep them as small as possible the back will usually fold down. The arms may also offer some adjustment to accommodate users of different widths.
To ease transferring on and off the scooter, the arms will flip back or up out of the way and the whole seat will swivel. Anyone expecting to use the travel scooter for many hours at a time will probably want to have some sort of added cushioning add to the seat for comfort.
Control Tiller
The tiller of a scooter is where the controls are housed. There will be a lever of some sort which has to be pushed to release the brakes and send power to the electric motor that propels the scooter. When the lever is released the motor stops and the brakes automatically reengage. The scooter key or switch which powers up the scooter is located on the tiller also. For comfort most tillers can be adjusted forward or back to best accommodate the reach of the user.