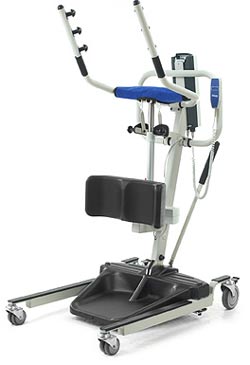 Reliant 350 Stand Up Lift
Stand Up Lift Information
Stand-up lifts are quite a bit different than a conventional floor power or manual patient lift. The conventional floor lifts use a sling or strap system to cradle the person being lifted and lifts their entire weight. A power stand up lift still uses a sling of sorts but the weight of the person being lifted is transmitted through their legs to a platform on the lift. The feet of the patient are securely placed on the foot platform with their knees positioned against a knee block which will prevent their knees from bending when lifted.
Stand up lifts often have a smaller base than a conventional floor lift and can usually be maneuvered in smaller areas but are limited to transferring a person from a sitting position in one location to a sitting position in another location. While great for transferring a person from a wheelchair to a commode, chair, toilet, or bed, it can't be used to transfer a person into or out of a bath tub and it can't lift a person from a bed unless they are able to sit up on the edge of the bed.
Physiological Benefits of Standing
People who are not able to stand on their own can use a stand up lift to prevent secondary complications that often result from prolonged use of a wheelchair. Standing promotes the following medical benefits:
Facilitate a natural symmetrical standing posture
Develop and improve upper body balance and strength
Improve range of motion in spine, hips, knees, and ankles
Decrease abnormal muscle tone and reflexes (spasms, contractures)
Reduce pressure sores (decubitis) through changing positions
Improve systemic functions (bladder, digestive, respiratory and circulatory)
Lessen progressive scoliosis and assist with skeletal development
Stabilize and prevent loss of bone mineral density
Alleviate pain caused by prolonged and/or inappropriate position
Develop standing tolerance and endurance
Many people enjoy psychological benefits in addition to the physical benefits achieved by being able to stand for short periods of time through out the day such as improved self-esteem and social development.
Stand Up Lift Sling
Stand up lift slings are pretty simple. They usually consist of a padded wide belt which wraps around the chest of the user. A couple of straps attach to the stand up lift arms which pull the user to a standing position when the lift is raised. As with other lifts which use slings, the sling used with a stand up lift should be the sling recommended and supplied by the manufacturer of the lift for safety and liability reasons.
Battery or Hydraulic Powered?
When stand up lifts first hit the market they were all battery powered and very expensive but there are hydraulic models on the market now such as the Get-U-Up which start around the $1,000 mark. The advantage of hydraulic stand up lifts are, they don't require charging or the future expense of battery replacement. The disadvantage is the hydraulic seals will begin to leak a bit over the years and need to be replaced. While not expensive, seal replacement does take a little time which may create a problem if the lift is used often, unless your dealer can offer you a loaner hydraulic pump while yours is being refurbished.
Use Considerations
There are a couple of things caregivers and users should be aware of when using a stand up lift.
1) The brakes are for parking. With the brakes off while lifting the lift will center itself over the user making it more stable.
2) If the user is new to standing they may not be able to fully extend their knees and hips without some stretching. In some cases the user may have to be raised only partially until they become accustomed to being stood up.
3) Not everyone is a candidate for a stand up lift. There may be physiological reasons for not standing a person up and a health care professional should be consulted before using a stand up lift.