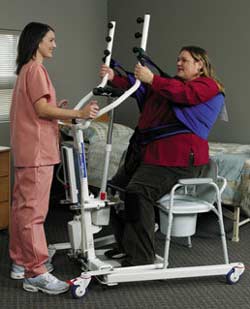 Invacare Reliant 440 Power Stand-up Lift
The Reliant 440 is a great power patient lift with a heavy-duty weight capacity of 440 lbs. It has all the features necessary to make transfers a safe and simple procedure for the patient, and the caregiver.
It has great safety features like auto-off that automatically stops the boom if it meets resistance, preventing entrapment. The Reliant 440 also has a unique power spreading base, so the width between the legs can be adjusted with the touch of a button. This greatly reduces the strain on the caregiver, compared to the hydraulic jacking required by other lifts.
The Reliant 440 has ergonomic features that make dressing, toileting, and transfers nearly effortless. Its wide, comfortable slings, and padded leg contour provide a safe, comfortable ride for the patient. The Reliant 440 is a great lift that will meet the needs of the patient and the caregiver.
Features:
440 lb. weight capacity
Boom and base are fully powered, operated with hand pendant
Anti-entrapment feature stops motion if boom meets resistance while lowering
Removable battery box is conveniently located on mast; it features an emergency OFF button
Specifications:
Maximum Height at Sling Hookup: 67"
Minimum Height at Sling Hookup: 39"
Base Clearance: 5"
Base Width Open: 44"
Bsse Width Closed: 26"
Base Length: 41.5"
Casters Front and Rear: 4"
Weight Capacity: 440 lb.
Product Weight: 117 lb.