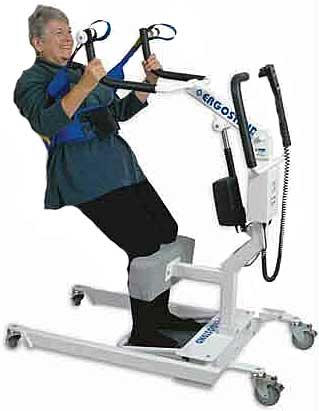 BHM Ergostand Electric Stand-up Lift
Note: BHM Medical seems to have disappeared. Their website url, www.bhm-medical.com, now redirects to www.arjohuntleigh.com's ceiling lift page. I'm assuming that BHM Has been taken over by Arjo Huntleigh. People looking for information on BHM products should probably contact Arjo Huntleigh.
I don't know whether this product is still available (I see some dealers still advertising them). I'm leaving the page online as a reference for anyone who might need this information.
The BHM Ergostand electric standup lift makes standing transfers, cleansing and dressing safer for the caregiver and is the perfect solution for patients up to 400lbs. in weight who are able to stand with assistance. When properly set up, the caregiver can go about the tasks at hand with much less effort and without worrying about the patient falling.
The wheeled base's front legs will widen or narrow as needed to maneuver the base around furniture and other obstacles during transfers.
Features:
Soft start and stop movement
Dual Controls
Emergency shut off
White powder coat finish
Rechargeable and removable battery pack
Specifications:
Weight Capacity: 400 lbs.
Up to 100 lifts per charge with a 200lbs. patient
Visual low battery warning gauge
Steel construction
Product Weight: 90lbs./41kgs.