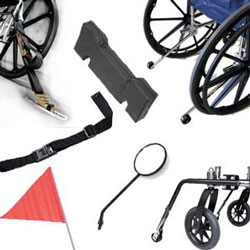 Wheelchair Accessories
Wheelchair Accessories
Wheelchair accessories as a topic for this web site includes the many products that while helpful, are not necessarily required for the use of a wheelchair. These are primarily items which either make the wheelchair more functional or comfortable for the user.
For items that are, in some form, actually required for most wheelchairs to function and the user to be comfortable, please visit our wheelchair components pages.
The majority of the items in this section will be common to both manual and power wheelchairs however items which aren't will will be identified.
There is a lot of information in this section and to keep it organized I have broken the web pages down into the following categories: