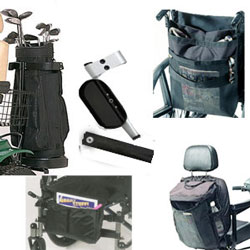 Wheelchair Carriers and Holders
One of the issues that always comes up for wheelchair users is carrying things on a wheelchair while moving. Carrying a dinner plate of drink on a power wheelchair while driving is a recipe for disaster, and on a manual wheelchair it`s pretty much impossible without something to help out.
For this reason many manufacturers have come up with a variety of products that will enable wheelchair users to propel their wheelchairs and transport items they will or want need with them.
Below are several of the most popular and useful carriers and holders most of which can be used on wheelchairs, walkers and scooters.
Cup Holders

Drinks, whether hot or cold, are always an issue for wheelchairs users. They tend to fall over or slide around on a tray when in movement on a wheelchair. There are a couple different ways to attach a cup holder to a wheelchair, scooter or walker, velcro straps or clamps are the most common.

Cane/Crutch Holders

Not all wheelchairs user are unable to walk and many can use a cane or crutch to move around in small spaces where the wheelchair isn't practical or for short distances. Cane/crutch holders normally clamp onto a wheelchair, scooter or walker and hold the cane/crutch secure when in movement.

Wheelchair Backpacks

For shopping and carrying larger items there is nothing better than a backpack that is designed to fit on the back of a wheelchair or scooter. These bags can hold a fair amount of stuff and the ones pictured are pretty fancy versions but there are plainer ones around and some people make their own out of fabric. One caution is they are not secure as the user can't see them and someone could quite easily take something out of them without being seen. Keep wallets, purses, phones etc. somewhere more secure.

Under Seat Pouch

Under seat pouches are great for valuables such as wallets, cameras, phones etc. They are much more secure than many other pouches because unless the wheelchair user is asleep, no one is going to get anything out of this pouch without being noticed. When the user is sitting in the wheelchair the pouch is behind their calves.

Wheelchair Arm Pouch

Arm pouches for wheelchairs are more secure then a backpack and less secure than an under seat pouch but are a fairly good compromise for people who can not reach down into an under seat pouch.

Oxygen Tank Carriers

People who require oxygen, either constantly or occasionally, must always have it available and carry it with them. Oxygen carriers for wheelchairs allow wheelchair users to take their oxygen tanks with them fairly effortlessly. The tanks shown are high pressure cylinders which aren't very common these days. The more common portable liquid oxygen tanks are not standard in size or shape and will require a different type of carrier which should be available from the oxygen supplier.

Rod and Reel Holder

People like to fish whether they are wheelchair users or not. They make fishing rod holders for boats, why not for wheelchairs?

Golf Bag Carrier

Okay, if you`re not into fishing, you might be interested in golf. This golf bag carrier for scooters is a necessity for any golfer who has difficulty in walking.