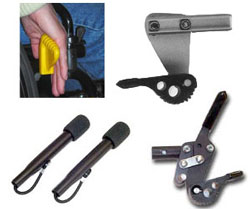 Wheelchair Wheel Lock Accessories
Wheel locks for wheelchairs have a couple of accessories that are of benefit to the user. These items are not really needed for the brakes to function but they will either make the wheel lock easier to use or provide a benefit to the user.
While some of these options are available when the wheelchair is originally ordered, they can usually be purchased at a later date should the need for them arise.
These products are added to the wheelchair's existing wheel locks and, with the exception of the grade aids, don't normally require replacement of the wheel locks to be used. The grade aids may not need replacing if the grade aids purchased are manufactured by the same company that manufactured the wheel locks.
For more information on wheel lock styles and types please visit the wheel locks information page in the components section.
Wheel Lock Extensions

Wheel lock extensions, commonly referred to as brake extensions, provide a couple of benefits to the wheelchair user. First and foremost, extensions give the user with limited strength more leverage making the wheel locks easier to engage and release. Secondly, they make it easier for people who trouble reaching their wheel locks. Particularly those who have lost the use of one hand or arm and cannot reach the wheel lock on their bad side with their good arm.

The wheel lock extensions can be easily removed if they are in the way during transfers or other activities. The extensions slip over the wheel lock handles once the rubber, or plastic, tips are removed. Some versions come with straps so the extension will remain attached to the wheelchair when removed and they usually can be purchased in a long version (about 8") or a short version (about 6").


Invacare Extensions

Grade Aids

Grade aids are devices attached to the wheel locks to prevent the wheelchair from rolling backwards. This is particularly beneficial when climbing ramps or propelling up slopes. When a user is climbing an incline they must remove their hands from the handrims and reposition them frequently as they proceed. When they remove their hands, even for a split second, the wheelchair will try to roll backwards. Grade aids prevent this.

The grade aids must be engaged when needed and disengaged when not needed otherwise they will wear out the tires and always prevent the wheelchair from backing up. Grade aids do not work with solid tires so the wheelchair must be equipped with air tires.


Quickie Grade Aid

Grade Aid & Brake Assembly


Accu-grips

Accu-Grips are oversized, bright yellow brake tips. they give the user a bigger, brighter target to find when looking for their brakes. They are of great benefit to those whose eyesight is poor or those who have problems with their hands that may prevent them from being able to grip the wheel lock handles comfortably.