Commode Information
The primary purpose of a commode is to provide an alternative to using a toilet for people who can't get to a bathroom or can't sit on a toilet. A secondary purpose, when the commode has wheels, is for use as a showering device for people who require a seat in a shower stall which can be rolled into and out of the shower. Models designed to be used in a shower are known as shower commodes or rehab shower commodes. From the bottom end basic commode to the highest end rehab shower commode the prices range from less than $100.00 to over $5,000.00 depending on the features and options required.
Commodes are available in two basic types and these types have a variety of options and features to make toileting and showering easier for both the user and the caregiver.
Standard Commodes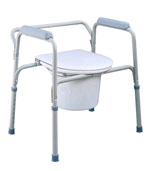 Standard Commode
Standard commodes are generally considered commodes without wheels. They tend to be fairly basic and at the lower end of the cost scale but can provide a variety of options to make them more functional for different types of users.
Because they have no wheels they are usually placed in a location (beside a bed or over a toilet) and left there. The user must make their way to the commode to use it when necessary. Non-wheeled commodes are usually used by people who can walk and/or transfer themselves onto the seat without a lot of assistance. The buckets for collecting urine and fecal matter is usually large enough to be used a few times before emptying is required and often have a lid to hide the contents or prevent splashing when being moved.
Standard commodes can be available with a combination of different features
Bariatric (heavy duty) models with higher weight capacities
Wide seat models for those who require wider seating surface
Drop arm models for those who need to transfer to the commode by sliding across from a wheelchair
Folding models that allow for easier transport and storage
Padded seats for comfort
More information on standard commodes
Wheeled Commodes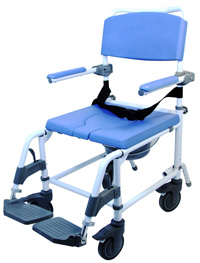 Wheeled Commode
Wheeled commodes are available with the same features and options as the standard commodes but have wheels and, usually, footrests. This type of commode is often used to transport the user to and from the washroom or to be brought to the user when needed and stored out of the way after use.
The wheels are generally swivel casters of various sizes from 3" to 8" to allow the commode to get into, and maneuver around, small spaces. The larger the wheels the easier it is to push the commode, especialy when the user is heavy, the floor carpeted or when there are thresholds or changes in the floor surface to contend with.
More information on wheeled commodes
Shower Commodes & Rehab Shower Commodes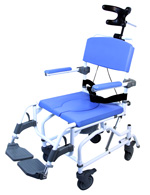 Rehab Shower Commode
Shower commodes are simply wheeled commodes that are designed to be used in a shower as well as for their usual uses.
Rehab shower commodes are shower commodes with added features for more severly affected users. They can have tilt mechanisms that allow the user to tilt backwards for comfort and control, lateral supports, harnesses, headrests and other features.
Some models of shower commodes and rehab shower commodes offer large rear wheels that allow the user some independence as they can self propel the commode much like a wheelchair.