Pediatric Medical Products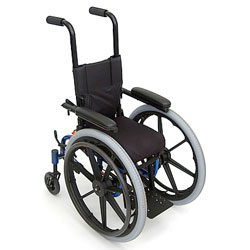 Invacare Comet Wheelchair
Children with disabilities present a whole range of issues which are not considered important for adults. The needs and goals for the children are often quite different than adults and the characteristics of the equipment needed tend to be much more diverse. Because children are still growing and developing physically, there are more opportunities to improve their conditions and reduce their limitations with the help of medical therapy and the assistance of specialized medical equipment.
In addition to being smaller for children, the equipment must be able to grow larger as the child grows. Ideally, the equipment will be able to grow with some adjustments but often parts are required. When parts are required, the cost of them is always much less than the cost of replacing the equipment entirely.
Because of the complexity of the equipment and issues for children professional input should be attained before purchasing and using any pediatric equipment to be sure the equipment is beneficial, appropriate, safe and sized properly. This input can be from an experienced Physio or Occupational Therapist, Pediatrician or in the absence of these professionals a reputable vendor who has experience supplying medical equipment for children.
While I've touched on pediatric equipment throughout the MobilityBasics.ca web site I've decided to group together all the information I have in one section. Below, and in the left column of this section, you will find links to both generic and specific information about the products which are designed for use for children.
This section of our web site is devoted to home medical equipment and mobility devices that are designed specifically for children's needs.
New! - Rehab and Treatment Centres for Children