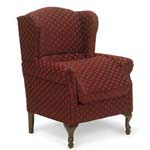 Lift Chair Type Information
For those who would benefit from a little mechanical help when standing from a sitting position or sitting down in a controlled manner, a seat lift chair will make life much easier. Electrically operated, the seat of a seat lift chair gently rises and lowers to make accessing and leaving the chair easier.
To sit, a user stands in front of the chair when the seat is in the raised position, leans back against the seat and activates the switch which will lower the user down into an upright sitting position. When the user wishes to stand, they activate the switch and the seat lifts the user to a standing position.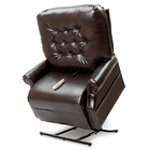 Pride LC-358XXL Lift Chair
Two Position Lift Chair
Two-Position Lift Chairs recline slightly. When reclining, the legrest of the chair rises concurrently to a position that would be comfortable for most people to watch television. 2-Position Lift Chairs are not generally lounge models where the space between the legrest and the seat is filled in so if this feature is important to you choosing a 3 position or Infinite position lift chair might be a better choice.
2 Position chairs change the seat using a single motor that is operated with a easy to use single switch remote control.
Three Position Lift Chair
Three Position lift chairs are simply a step up from a 2 position lift chair. The controls work basically the same but, when the travel of a three position lift chair reaches it's recline maximum, the user's knees and feet are higher than their hips and the back of the chair is reclined farther. Many people who have trouble sleeping while lying flat in a bed will choose this model of lift chair to sleep in at night. These chairs are well padded and very comfortable in the lounger style that has the gap between the legrest and seat filled in.
These chairs also have a single motor to change positions except for the heavy duty and bariatric models that will often have 2 or 3 motors. The remote control still works with a single switch for simplicity and the back ad legrest move together.
Infinite Position Lift Chair
The infinite position lift chair is an upgrade from the 3 position lift chair which reclines to almost a flat position for sleeping. This would be of benefit to people who could sleep in a flat bed but for some reason aren't able to transfer into a flat bed or need to be able to change their position through the night.
Infinite position lift chairs operate with at least two motors so the backrest and legrest can move independently of each other. This independence provides an almost infinite number of positions the chair can be set to. Infinite position chairs are almost always lounger style with the gap between the legrest and seat filled in and a multi-switch remote control to operate the chair.
Heavy Duty / Bariatric Lift Chair
Heavy Duty, or Bariatric, Lift Chairs are lift chairs that are designed to have high weight capacities. Depending on the manufacturer the capacity could be anywhere between 350 and 700 pounds. These types of chair have wider seat widths and depths to accommodate larger body frames and are usually, but not always, 3 position models.
These chairs have reinforced frames and often have multiple motors to handle the extra weight they are expected to carry. As heavier users cause more than average wear on foams and upholstery it's important to ensure that the quality of these are checked when purchasing a chair.
Vertical Lift Chair
Lift chairs almost always require the user to be able to stand up to transfer into them or leave them by standing. The Vertical Lift Chair is designed to allow for other transfer options. The vertical lift chairs I'm familiar with lift straight up instead of lifting a tilting forward. By lifting straight up they can be set to a height of a surface that the user is transferring onto or off of. These chair have removable arms and shoulder wings to allow side transfers on to wheelchairs, commodes or beds in a sitting position. If needed, the chair can be positioned flatly so the user can be transferred in a prone position from or to a bed.
Although the basic function of most lift chairs is to facilitate independent and safe transfers, vertical lift chairs are expected to be used with the aid of a caregiver to allow those who couldn't normally benefit from the comfort of a reclining chair
Zero Gravity Lift Chair
When seated in Zero Gravity lift chairs provide additional positioning options so users can experience a weightless feeling that aids in maximum relaxation. That feeling of weightlessness is not imagined, a Zero Gravity lift chair or recliner can be positioned to put less pressure on the back and spine, and decrease muscle tension. When the Zero Gravity chair is reclined, your legs lie above your chest giving a similar effect to the Trendelenburg position mentioned below. As the angle of recline, tilt and legrest position is fully adjustable by the user, finding the optimal position in the Zero Gravity Lift Chair should be achievable.
The name for Zero Gravity chairs was inspired by NASA astronauts and their position just before takeoff. You can now enjoy the benefits of a Zero Gravity chair right from your home or office.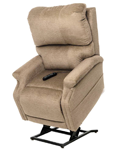 Pride PLR-990iM Lift Chair
Trendelenburg Lift Chair
Some infinite position models of lift chairs provide the Trendelenburg position. In the Trendelenburg position the body is at a slant with the head below the heart and the head lower than the legs. This position changes blood circulation but also can make breathing more difficult and can increase intracranial pressure. The benefits of this positioning is now questioned as the detrimental effects of this position can outweigh the benefits.
For more information about this positioning please see the article at the NursingCenter website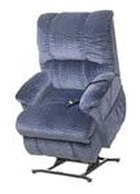 Golden Technologies PR-906 Lift Chair
Space Saver Lift Chair
Space Saver Lift Chairs are kind of rare. Not a lot of companies produce lift chairs with this feature although for small homes and rooms where you need to position the chair against a wall they are just what people need. Also known as "Wall-Hugger" lift chairs, they will normally slide forward as they recline so they can be positioned close to the wall (usually about 6" - 8") and fully recline without hitting the wall.
In comparison, non Space Saver chairs will often need 25" to 30" of clear space behind them to allow them to fully recline. The most only common brand I see that manufactures a Space Saver Lift Chair is Golden Technologies.
Common Lift Chairs

By Lift Chair Type

By Manufacturer