Two Position Lift Chairs
Two position lift chairs are the next step up from the stand assist products and offer the user the ability to easily sit, stand, recline and elevate their legs. These chairs are usually available in several fabric and colour options for the abundantly padded upholstery.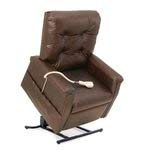 Pride Casual Line; C-10 2 Position Lift Chair
The Pride C-10 Casual Lift chair is a two position recliner with a button back design. The C-10 Casual Lift chair comes with a free in-home service contract for one year, and is available in 3 great fabrics or Chestnut vinyl.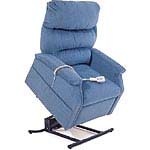 Pride Casual Line; C-20 2 Position Lift Chair
The Pride C-20 Casual Line Lift chair is a 2-Position medium-to-large lift chair with a more contemporary pillow back design. It comes standard with armrest covers and 22 great upholstery options...14 of which are at no additional charge.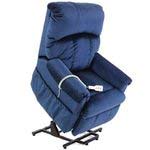 Pride Luxury Line; Wall Hugger LL-805 2 Position Lift Chair
The new Pride Wall Hugger TMR-805 Lift Chair is a space-saving, two position lift chair that is the perfect choice for tighter quarters. Only 4"" of space are needed between the wall and the chair. The Wall Hugger Lift Chair features a split-back design and a single-switch hand control.
Common Lift Chairs

By Lift Chair Type

By Manufacturer