Infinite Position Lift Chairs
Infinite position lift chairs are the top of the line lift chairs on the market. these chairs usually incorporate two motors to allow the user to adjust the recline and foot elevation independently of each other.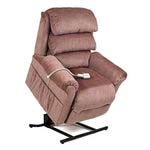 Pride Luxury Line; Infinite Position LL-660/670 Infinite Lift Chair
The Pride Luxury Lift Line Infinite Position 660 and 670 Lift Chairs offers dual motors, allowing the back and leg rest to operate independently, for infinite positioning possibilities. It also offers 3 plush foam pillow backs with adjustable cushion padding, overstuffed armrests and deluxe fabrics.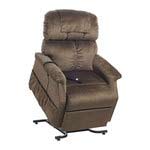 Golden Technologies Comforter with Maxi-Comfort Infinite Position Lift Chair
When it's time to relax and unwind, allow Golden Technologies' patent-pending MaxiComfort Zero-Gravity Positioning Technology to offer you more positioning comfort than any other lift and recline chair available today.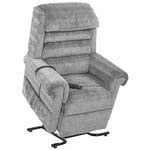 Golden Technologies Relaxer MaxiComfort Infinite Position Lift Chair
The Golden Technologies PR 756MC Relaxer Infinite Position lift chair is a lift/recliner that features afour pillow waterfall back and Golden Tech's patent pending MaxiComfort recline system. This unique system allows you to elevate your feet and hips above your heart for improved circulation.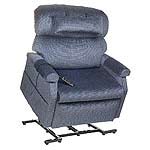 Golden Technologies Heavy Duty Infinite Position 700 lb Capacity Lift Chair
With a 700 pound weight capacity, triple motors and 33"" of comfortable space between the arms, this lift chair is the highest weight capacity lift chair that we carry. In addition, the triple motors allow for separate operation of the footrest and the back for complete flexibility in achieving an infinite number of positions.
Common Lift Chairs

By Lift Chair Type

By Manufacturer