Space Saver Lift Chairs
Space Saver, also known as wall hugger, lift chairs are designed to be able to be positioned close to a wall and still be able to recline without hitting the wall. Other models of lift chairs need to be positioned farther from the wall which can be a problem for small rooms.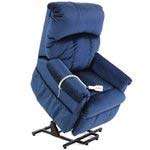 Pride Luxury Line Wall Hugger LL-805 2 Position Lift Chair
The new Pride Wall Hugger TMR-805 Lift Chair is a space-saving, two position lift chair that is the perfect choice for tighter quarters. Only 4"" of space are needed between the wall and the chair. The Wall Hugger Lift Chair features a split-back design and a single-switch hand control.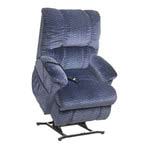 Golden Technologies Space Saver PR-906 3 Position Lift Chair
The Golden Tech PR-906 Space Saver3 position life chair is a unique lift/recliner in that it only requires 6"" of recline space from the wall to recliner, yet it still reclines to a napper position. The overstuffed back and arms will invite you to relax for hours of satisfying comfort.
Common Lift Chairs

By Lift Chair Type

By Manufacturer