Van Conversions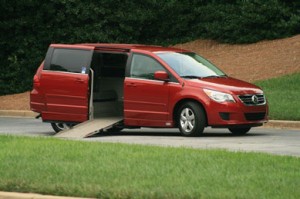 Side door entry lowered floor van conversion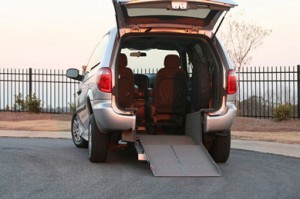 Rear door entry lowered floor van conversion
There are a variety of modifications that can be done to vans to make them accessible for wheelchair users and allow them to be transported safely. The amount and type of conversion needed can vary greatly between users depending on their needs.
Van conversions can be loosely grouped into two categories, the first is a conversion that is intended to make safe transportation of a wheelchair user possible. The second is a conversion intended to make it possible for a wheelchair user to independently access and drive their own van.
Regardless of the purpose of the van conversion headroom will always be an issue. Even young children can have trouble fitting into a van while sitting in the chair if the chair has too high a seat height. Because kids wheelchairs usually have high seat heights so they can access tables or desks and be able to reach things easier headroom problems in vans is pretty common.
You only have two choices to gain headroom in a van. The first is raise the roof higher, the second is lower the floor. Both are major modifications and lowered floors are only an option with front wheel drive vans. Lowered floor vans do not allow the wheelchair user to drive the van
Lowered floor van conversions seem to be the most common conversion these days. Probably because they are easier to access (expensive van lifts aren't required) and front wheel drive minivans that are more economical to run and easier to drive are well suited to this modification.
Below is a list of possible modifications and products that can be included in a full van conversion or individually as needed:
Van ramp installed (back or side door) inside the van and fold out for use.
Van lift normally installed (back or side door) inside the van and fold out for use but there are underfloor lifts available for side door entry.
Power turning seats allow people to transfer from their wheelchair onto the seat which then turns and retracts into the van.
Six way power seats allow wheelchair users to transfer from their wheelchair to the van seat inside the back of the van and then move into position. These seats are often used by people who want to be able to drive the van.
Tie down systems are used to secure the wheelchair or scooter in the rear of a van. They can be straps or a mechanical docking device.
Lowered floors allow entry into the back of the van using a short ramp and provides more headroom. A lowered floor is only possible in front wheel drive vans.
Raised roofs provide the wheelchair user with more headroom. These are more common for wheelchair users who want to be able to drive their van from their wheelchair or transfer onto a six way power seat. Vans with a raised roof will also have modified doors so the user won't have to duck down to enter the van.
Power doors allow the rear or side doors of the van to be opened with the push of a button. For those who want to be independent when accessing their van, power doors make it a whole lot easier.
Kneeling vans make entering the van easier for wheelchair users to enter the van using a shorter ramp. Even though a lowered floor will make using a ramp easier, a kneeling van will make accessing the van even easier.
Hand controls to allow drivers who can not use there legs to control the brake and gas pedals.
Driving aids such as turn signal extensions, gear shift extensions, parking brake extension and other aids are available to make driving easier and safer for those with physical limitations.