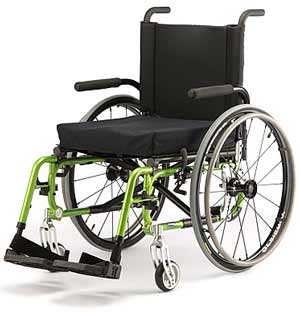 Invacare Prospin Wheelchair
Disclaimer & Terms of Use
1) We do not sell any products or services. We are wholely supported by income generated by selling ad space to our advertisers.
We do not endorse or recommend any specific advertiser or product.
Visitors will also find ads supplied by Google throughout our web site and we receive a small fee for traffic generated by these ads.
2) The generic and non-specific information presented on this web site is based on the personal experience and training of myself, Dave Stewart. I have over 20 years of employment as both a technician and sales consultant for the product categories presented.
While we can offer general advice and direction in the choosing of the proper equipment, without actually meeting the end user it's impossible for us to offer any specific advice or propose an specific piece of equipment.
3) Any pages with information on specific pieces of equipment has been gathered from the manufacturers and retailers of that equipment and should not be considered an endorsement of the equipment, it's manufacturer, it's retailers, it's features, quality or usefulness by this web site.
4) Because the specific needs of individuals will vary from person to person, there will always be exceptions to the rule and the information presented should only be considered a general guide to the attributes and suitability of the equipment presented.
5) Before making a purchase of the equipment presented, the purchaser should seek the advice of a health care professional (whether it be a Doctor, Physiotherapist, Occupational Therapist or the Equipment Vendor) to help decide which product and features will be safest, most appropriate and beneficial.
Thank you for visiting,
Dave Stewart