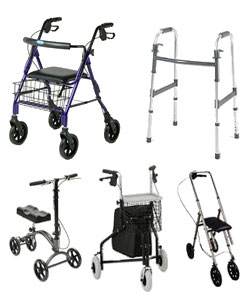 Mobility Walkers
Walkers
Walkers come in a variety of configurations these days, most fold for storage and transporting and all help keep people who are unsteady on their feet stay safe while walking and standing by providing a stable device to put their weight on. Where they will differ is in their design. The information below is an overview of several of the different types of mobility walkers available.
As with many other types of home medical equipment, walkers should be tried out before purchasing. Although there may be cheaper prices from online vendors, buying walker or rollator that doesn't meet the user's needs will not save anyone money. Before buying online be sure you know what you need and that the product you are buying will meet those needs.
Standard Walkers
Standard walkers are not very commonly purchased these days but are still available. They generally consist of metal frame, usually aluminum but I've seen them made of steel, with four legs and two hand grips.
Originally, standard walkers didn't fold but over time the manufacturers made improvements in their designs by offering folding versions to make them easier to store and transport.
Another design improvement that came along was the production of wheeled leg extensions that could be added to standard walkers for those had trouble lifting the walker during use. You can buy either two or four non-swivelling wheels for a standard walker or you can purchase two swiveling and two non-swivelling wheels to make the walker easier to use. When installing swivel wheels on a walker they are always located on the front legs while the non-swivel wheels are located on the back legs.
For more information on standard walkers Click Here.
Wheeled Walkers (Rollators)
Rollator walkers are walkers with permanently affixed wheels and the user should never have to lift them during use. The rollator walker is the most common style of walker sold today because of their stability, ease of use and the features available as either standard equipment or as options.
Rollators most commonly come with four wheels (the front two swiveling), hand brakes, a seat and often a basket. There are a few three wheeled models on the market that can be easier to use in tight spaces but can be a little less stable and don't normally offer a seat or tray for the user.
Various sized wheels are available on rollator walkers depending on the expected use of the model. The larger the wheels (8" wheels), the easier they will roll over rough terrain and obstacles making the larger wheeled models the best choice for out door use. Regardless of the size of the wheels, the vast majority of walker wheels will be solid and not subject to flats or low pressure problems that can afflict air filled tires.
For more information on indoor rollator walkers Click Here.
For more information on outdoor rollator walkers Click Here.
For more information on three wheeled rollator walkers Click Here.
Combination Rollator Transport Chair
Combination rollators are rollators that are used in exactly the same way as any other rollator but have the added feature of being able to be used as a transport chair if the user tires and is no longer able to walk.
The backrest is reversed and a foot rest is mounted on the front of the rollator to support the user's feet. The sits on the rollator transport chair facing forward and the care giver pushes from the back.
For more information on combination rollator transport chairs Click Here.
Platform Walkers (Table Walkers)
Platform walkers, sometimes referred to as table walkers, are basically four wheeled walkers that have flat platforms mounted at chest height for people whose arms and/or hands are not able to support their weight when using more conventional walkers. The user rests their upper arms on the platform of the walker and walks around pushing the walker ahead of them. The more elaborate of the platform walkers may also have handles to grip and some type of braking system.
Platform walkers seem to have disappeared from the home health care industry in recent years. Although there used to be several companies manufacturing platform walkers, I know of only one company currently doing so. You can visit their web site here: http://www.mjminternational.com
Gait Trainers
Gait trainers, also referred to as walking frames, are walking aids for severely affected people without sufficient trunk, arm or leg strength and control to use any other walking device. When using gait trainers, the user is harnessed into the trainer and has their entire body weight supported by the device while enabling them to move their feet without having to balance themselves. Gait trainers are usually used by people who have to relearn walking following an accident or young people who have never been able to walk but have the ability to move their feet and may with time be able to develop some independent mobility.
For more information on gait trainers Click Here.
Knee Walkers
Knee walkers are designed for people who don't normally have trouble walking but for one reason or another are not able to put weight on one of their feet. The knee walker will normally have four wheels, a handhold of some type, brakes and a knee pad.
When using a knee walker the user bends their afflicted leg at the knee, rests that knee on the knee walker's knee pad and pushes themselves along using their good leg while holding onto the knee walker handle. Some models of knee walker also have a small basket for carrying items from place to place.
For more information on knee walkers Click Here.