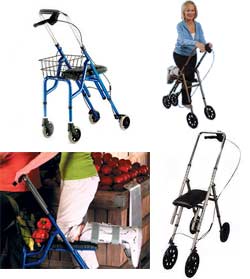 Knee Walkers
Knee Walkers
Knee walkers are small folding four wheeled walkers that are designed for a very specific group of users. They can be set up for either the left or right leg as needed. The knee walker consists of a small pad to rest one knee on, a metal frame, wheels, a handle and brake. Some models also include a basket for transporting different items while in use.
Wheels
The wheels are of varying sizes depending on the model chosen. The larger the wheel, the more functional the knee walker will be outdoors and negotiating small obstacles. One thing a purchaser should be aware of is, some knee walkers do not have swivel wheels or any way of steering, which means the knee walker has to be lifted to turn corners or change direction.
Height Adjustment
Setting the proper height for a knee walker is important for the comfort, safety and posture of the user. There normally two height adjustments to made on knee walkers, the first being the knee pad height and the second being the handle height. Knee walkers should offer a range of approximately 5" of adjustment for both the knee pad and handle height.
Knee Pad Height - The knee pad height should be adjusted to a height where the hips are level when the affected knee is resting on it. Too high or too low will adversely affect the user's gait and making walking uncomfortable.
Handle Height - The handle height should be set high enough so that the user doesn't need to bend over to grip it and be comfortable to grip when walking.
How to Use a Knee Walker
The knee walker is designed for short term use by people who because of surgery or accident are unable to put weight on one leg for a short period of time. For safety, the user must have fairly good balance and strength and not be limited in movement while walking.
The knee walker is pretty simple to use. The user places their knee of the affected leg on the knee pad and pushes the walker along as the user is walking. Unlike many other types of walkers the knee walker is actually intended to take all the weight the user would normally put on a leg while walking.