The Magic Wheels website has disappeared and I haven't been able to find any informaiton on them so I can only assume this company has gone out of business. I've left the information on this prduct online so anyone who comes across a used set can get some information on them.
Magicwheels Geared Wheelchair Wheels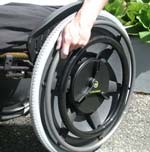 Magicwheels
Magicwheels are a really helpful geared wheel system for manual wheelchairs that reduce the effort needed to propel the wheelchair extending stamina, reducing fatigue and reducing strain on the user's arms or shoulders. The overall effect of these wheels is similar to Power Assist wheels but they are completely powered by the wheelchair user without the need for batteries or recharging. (These wheels are funded by the ADP program in Ontario under the "power add on device" category WPS1).
Magic wheels are compatible with most manual wheelchairs on the market today in North America (some models may require an adapter plate) and replace the wheels that come standard on the wheelchair. They can be purchased at the same time as the wheelchair is purchased or added on at a later date as the need becomes apparent.
How the Magicwheels function:
The Magicwheel handrims when used multiply the power exerted on them by a system of gears in the wheel hub and cause the wheelchair to move easier than would normally be expected. The standard configuration is a two speed system which offers the user a no reduction or a 2 to 1 reduction which eases the propulsion by 50%.
The double handrim option of Magicwheels (as pictured here) give the user two handrims to choose from when propelling and two speeds per handrim effectively offering a 4 speed equivalent.
There are multiple handrim option to choose from depending on the needs of the wheelchair user. They are available in aluminum anodised, plastic coated, foam coated or projection. If a double handrim option is chosen the user can opt for one type of handrim for the inner handrim and a different style for the outer handrim as needs dictate.