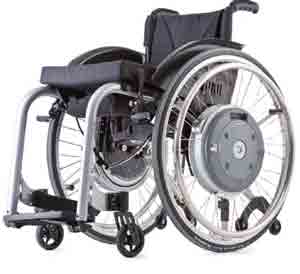 Alber e-Motion Wheels
Alber e-Motion Wheels
Alber e-Motion wheels are manufactured and distributed by Invacare and should be available from their dealers in most countries.
What are they?
e-Motion wheels are a power assist device that can be added to many different manual wheelchair models to allow wheelchairs users to travel longer distances and climb steeper hills and ramps while maintaining the benefits of using a manual wheelchair. In addition to added stamina and power for the user, these wheels also reduce the strain put on the user's wrists, arms and shoulders, enabling them to continue using a manual wheelchair longer before having to upgrade to a conventional power wheelchair and helping reduce the chances of injury.
How do they work?
The hand rim of the wheels are attached to switches that send signals to the motors housed in the hubs of the wheels. When the push rims are pushed forward the motors propel the wheelchair forward. When the push rims are pulled back the motors effectively brake the wheelchair or propel it backwards. The movement of the hand rim is minimal (about 1") to go from forward to reverse.
The wheels work independently of each other. So, if the user only pushes one hand rim the chair will move as it would with conventional wheels. If the user pushes one forward and one backwards to spin the chair it will spin (very quickly).
Becoming accustomed to the wheels is quite fast because the user basically uses the standard techniques to propel the chair as they would using conventional wheels.
The batteries are housed in the wheel hubs with the motors and can be charged on or off the chair using the supplied automatic charger. In the event the charge runs out or the wheels malfunction during an outing the chair can still be propelled as if it is a conventional wheelchair using conventional wheels or pushed by a caregiver.
Benefits
Helps increase personal freedom
Provides manual wheelchair users more power for climbing hills
Increases stamina in manual wheelchair users
Features
Has 2 programmable drive wheels and 2 speeds
Can be controlled by included remote control (ECS)
Fitted to chair using quick release axles
Can easily be swapped for conventional wheels with quick release axles
Coated hand rims for better grip
Bracket to hold remote control
Anti-tippers (adjustable in height, length & angel)
Spoke covers
Automatic charger
Specifications
Weight:
(with battery)
11 kg (24.2 LB) per wheel
Max Capacity:
130kg (286 lbs)
Wheel Size:

559 or 610 mm
22" or 24")
Maximum Speed:
6 kph (3 3/4 mph)
Maximum Range
on Full Battery*:
25 km (15.5 miles)
Battery Type:
Lithium Ion
Charger:
Automatic
Warranty Information
Two Year Warranty
Canadian Distributor/Manufacturer
Invacare Canada LP
570 Matheson Blvd. E,
Mississauga, Ontario,
L4Z 4G4

Phone: TF: 800-668-5324 GTA: 905-890-8300
Website: www.invacare.ca

For more information please visit www.invacare.ca