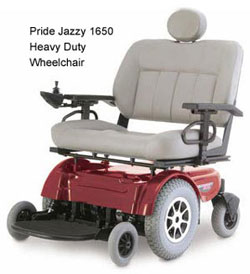 Pride Jazzy 1650 Heavy Duty Wheelchair
Heavy Duty Power Wheelchairs
While many power wheelchairs will accommodate users who have weights up to 400 lbs. there is still a great need for wheelchairs of higher weight capacities in today's market.
Heavy duty wheelchairs, also known as bariatric wheelchairs, fill this need with various models whose weight capacities can be any where from 400 lbs. up to 1,000 lbs. with seat widths up to 48" and seat depths up to 23" to accommodate these heavier users.
Generally, heavy duty wheelchairs are available in mid wheel and rear wheel drives with similar electronics and other options as conventional power wheelchairs however they are constructed with larger frames and seats. Once the weight capacity surpasses around 650 lbs. the mid wheel drive option usually disappears.
These chairs are not portable, will not fold and are not light weight. The frames are made of heavy duty steel tubing with the heavier models using steel bars instead of tubing, have re-enforced welds and the motors are substantially heavier than standard weight wheelchairs. Because of the power needed to drive the motors of these chairs generally the largest batteries available are required which adds even more weight to the chairs.
Batteries and Performance
Because these power wheelchairs are intended to be given heavy use and sometimes power several electrical components they often come with heavy duty batteries. For many users, the batteries must be able to supply enough power for all the wheelchair user's needs, for the entire day and be able to be recharged overnight.
Battery Range
Because of the many different weights of users and the wheelchairs themselves, the various models and configurations available and the varied usage by each user it is almost impossible to give an accurate ball park range for these wheelchairs.
Speed
As with battery range, speed will vary greatly between users and wheelchair models and can't really be approximated with any accuracy.
Seat Frames
Seat frames are available in many sizes from around 20" up to 48" in seat width and from about 18" to 23" in seat depth. Because of the nature of these wheelchairs the seat frame will almost always be constructed to meet the needs of the individual user. Please also note that once a wheelchair seat with exceeds about 30" the bariatric wheelchair will no longer fit through conventional doorways and the user will probably have to have custom doorways constructed for their home.
Because of the size of these wheelchair seats conventional off the shelf seating products will not be available and custom wheelchair seating of some sort will have to be made up.
In addition to deciding on a seat type, choice can be made as to whether the user will benefit from a reclining, tilting or elevating seat. Depending on the model of wheelchair these options may be available on a heavy duty power wheelchair.
Frames and Weights
There are two basic frame designs for power base electric wheelchairs; mid wheel drive and rear wheel drive and both will weight between 200 lbs. and 400lbs. The weight of the accessories and optional equipment chosen will have to be added to these numbers to determine a total wheelchair weight.
Mid wheel drive wheelchairs will be more manoeuvrable indoors and small spaces but harder to control at higher speeds. Rear wheel drive frames are more stable and controllable at higher speeds but have a larger turning radius and harder to manoeuvre indoors.
Turning Radius
The turning radius is the amount of free space required in each direction around the power wheelchair when turning a complete circle. The radius is one half of the diameter of the total circle. The smaller the turning radius, the more manoeuvrable the power wheelchair will be indoors.
There are several factors which affect the turning radius on a power base. In addition to the frame length and seat width we have to take into account of how much the footrests extend beyond the front and rear of the power base frame. The seat position and size, plus the footrest type and angle all will have a bearing on turning radius.
Weight Capacity
Weight capacities for heavy duty wheelchairs will be somewhere between 400 lbs. and 1,000 lbs.
Wheels
The wheels and casters will vary between models but they will be designed for the weights expected for the respective wheelchairs they are to be installed on.