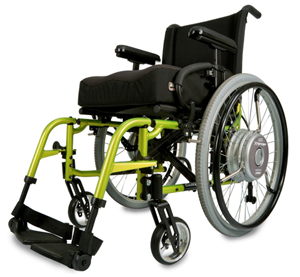 Xtender Wheels
Xtender Wheels
The Xtender power assist wheels are manufactured and distributed by Sunrise Medical and should be available for compatible Quickie wheelchairs from their dealers in most countries.
What are they?
Xtender wheels are a power assist device that can be ordered on new Quickie wheelchairs or added to existing compatible Quickie wheelchairs to allow users to travel longer distances, climb steeper hills and traverse less than ideal terrains.
In addition to added stamina and power for the user, these wheels also reduce the strain put on the user's wrists, arms and shoulders, enabling them to continue using a manual wheelchair longer before having to upgrade to a conventional power wheelchair and helping reduce the chances of injury.
Xtender types
The Xtender power assist wheels come in two different models.:
Type A -

multiplies the user's strength by 1.5 times and is designed for users who can deliver good propulsion and torque to handrim but want to reduce risk of secondary injuries on upper limbs and wrists.

Linear assist feel over various terrain
Take-off boost on flat terrain is not significant.
Good maneuverability on slope (maximum assist torque is higher than Type B on slopes)




Type B -

multiplies the user's strength by 3 times and is designed for those with limited mobility range who have difficulty delivering enough torque, for example due to C5, C6, C7 spinal cord injuries.

Good take-off boost and assist on flat and slight uphill terrain
Not suitable for steep slopes (pushrim torque sensor bottoms out, consequently assist power gets flat)
How do they work?
The hand rim of the wheels are attached to switches that send signals to the motors housed in the hubs of the wheels. When the push rims are pushed forward the motors propel the wheelchair forward. When the push rims are pulled back the motors effectively brake the wheelchair or propel it backwards. The movement of the hand rim is minimal (about 1") to go from forward to reverse.
Becoming accustomed to the wheels is quite fast because the user basically uses the standard techniques to propel the chair as they would using conventional wheels.
Benefits
Helps reduce repetitive strain injury to shoulders
Increases range of mobility
Can reduce oxygen consumption and ENergy expenditure
Can overcome uneven arm strength for better propulsion control
Allows for more efficient wheelchair use on rougher/softer terrains
Reducues fatigue
Porvides constant and controlled downhill speeds
Features
Microprocessor and sensors in each wheel to regulate power, direction, and speed
Wheels communicate with each other and adjust for smooth, straight ride
Easily disassembles for transport
Heaviest piece weighs less than 6.4 kg (14 pounds)
Green LED indicates when wheels are on or off
Enhanced battery technology for maximum performance
No programming needed for rollback prevention or downhill speed control
Shipped with pair fo conventional Quickie spoked wheels. pneumatic tires and quick release axles
Specifications
Compatible Wheelchairs:

Quickie 2, Quickie 2HP, Quickie Q7 NextGEN,
Quickie 5R, Quickie 7R, Quickie GT, Quickie GP
Torque Multiplier:

Type A - 1.5X Multiplier
Type B - 3X Multiplier
Weight:
(with battery)
16.4 kg (36 LB) total with lithium battery
15.5 kg (34 LB) total with nickel battery
Max Capacity:
120kg (265 lbs)
Wheel Size:

610 mm (24")
Tires:

610 mm Pneumatic (24")
Hand rims:
Stainless Steel (Type A)
Plastic Coated (Type B)
Maximum Speed:
6 kph (3 3/4 mph)
Maximum Range
on Full Battery*:
27 km (17 miles) with lithium battery
15 km (9.5 miles) with nickel battery
Battery Type:
Lithium Ion or Nickel
Charging time:
Lithium: 3 to 4.5 hours
Nickel: 2.5 to 3 hours
* Range will vary depending on battery age & condition, tire condition, terrain travelled, user weight, etc.
Warranty Information
Sunrise warrants the Quickie Xtender against defects in materials and workmanship for two (2) years.
Sunrise warrants the Quickie Xtender battery against defects for one year from the date of first consumer purchase.
Warranty Limitations
We do not warrant damage due to:
Neglect, misuse or improper installation or repair.
Use of parts or changes not authorized by Sunrise.
exceeding weight limit of 250 pounds.
This warranty applies in the USA only. Check with your supplier to find out if international warranties apply.
Canadian Distributor/Manufacturer
Sunrise Medical
237 Romina Drive, Unit 3
Concord, ON
L4K 4V3, Canada

Phone (Toll-free): 800-263-3390
Phone (GTA): 905-660-2459
For more information please visit www.sunrisemedical.ca