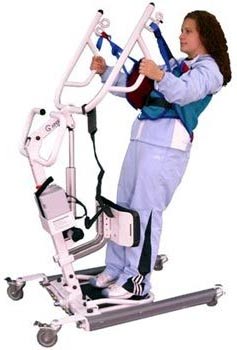 Apex Stella Stand Assist Power Lift
The Apex lift Stella electric stand assist lift is designed for secure patient transfers as well as supported walking. The Stella Stand Assist Patient Lift has one of the highest safe working loads in the industry and when used with the unique Apex deluxe sling, it provides unparalleled comfort and safety.
Extra sling loops on the lift mast allow the Stella patient lift to double as a commode lift for increased flexibility. The Stella is the ultimate solution for worry free patient transfers between bed, chair or commode.
Features:
This lift requires the user to be able to bear their own weight and assist in the transfers.
Doubles as a commode lift.
Low base height fits easily under beds.
Rubber coated base protects furniture.
Specifications:
Weight Capacity 400 lbs.
Product Weight 116 lbs.
Overall Length 40"
External Width - Base Closed 26.5"
Internal Width - Base Closed 21.75"
External Width - Base Open 37"
Internal Width - Base Open 32.5"
Hooks Min. Height 33"
Hooks Max. Height 68"
Base Height 4"