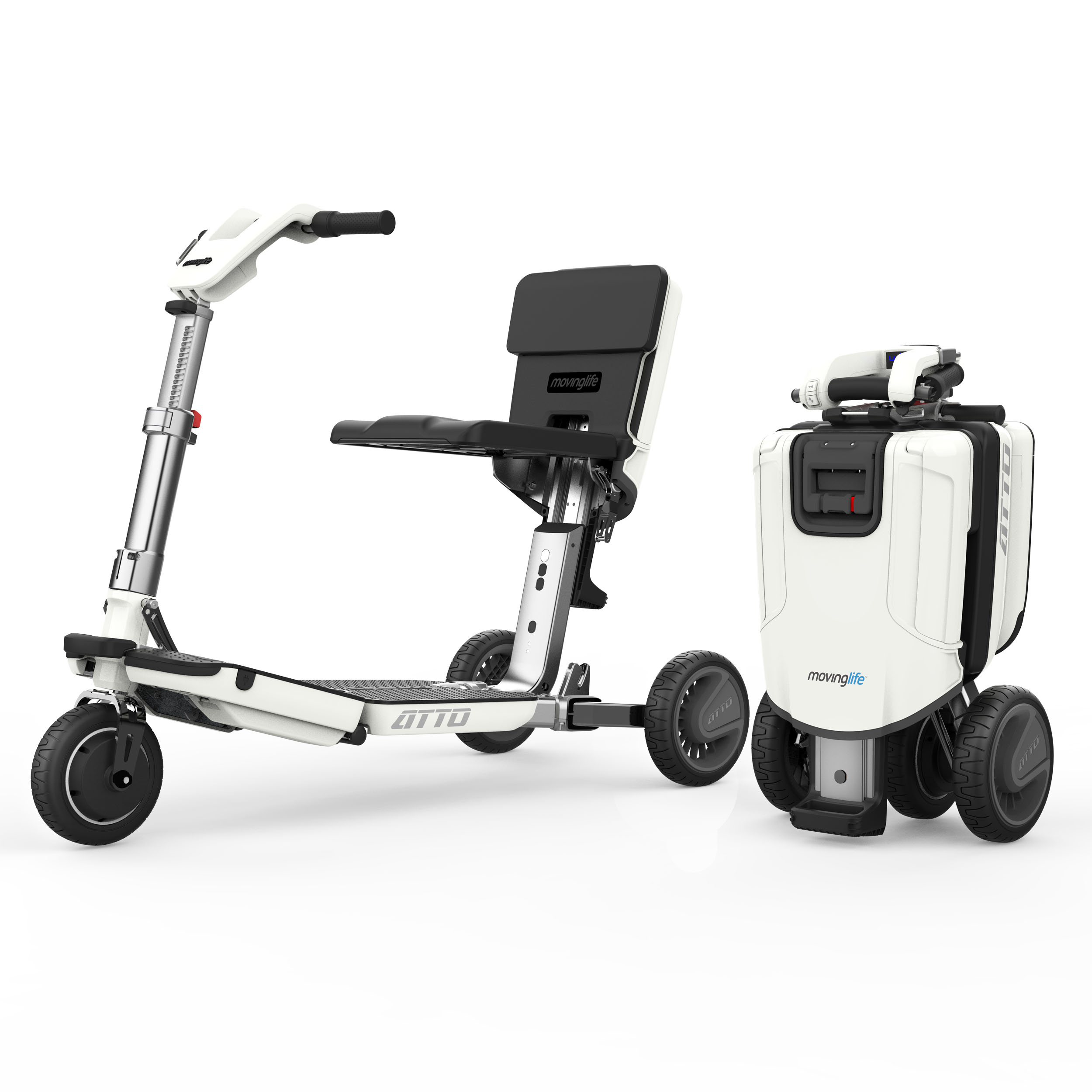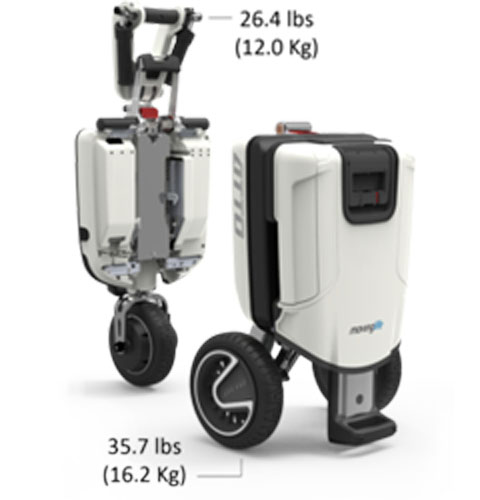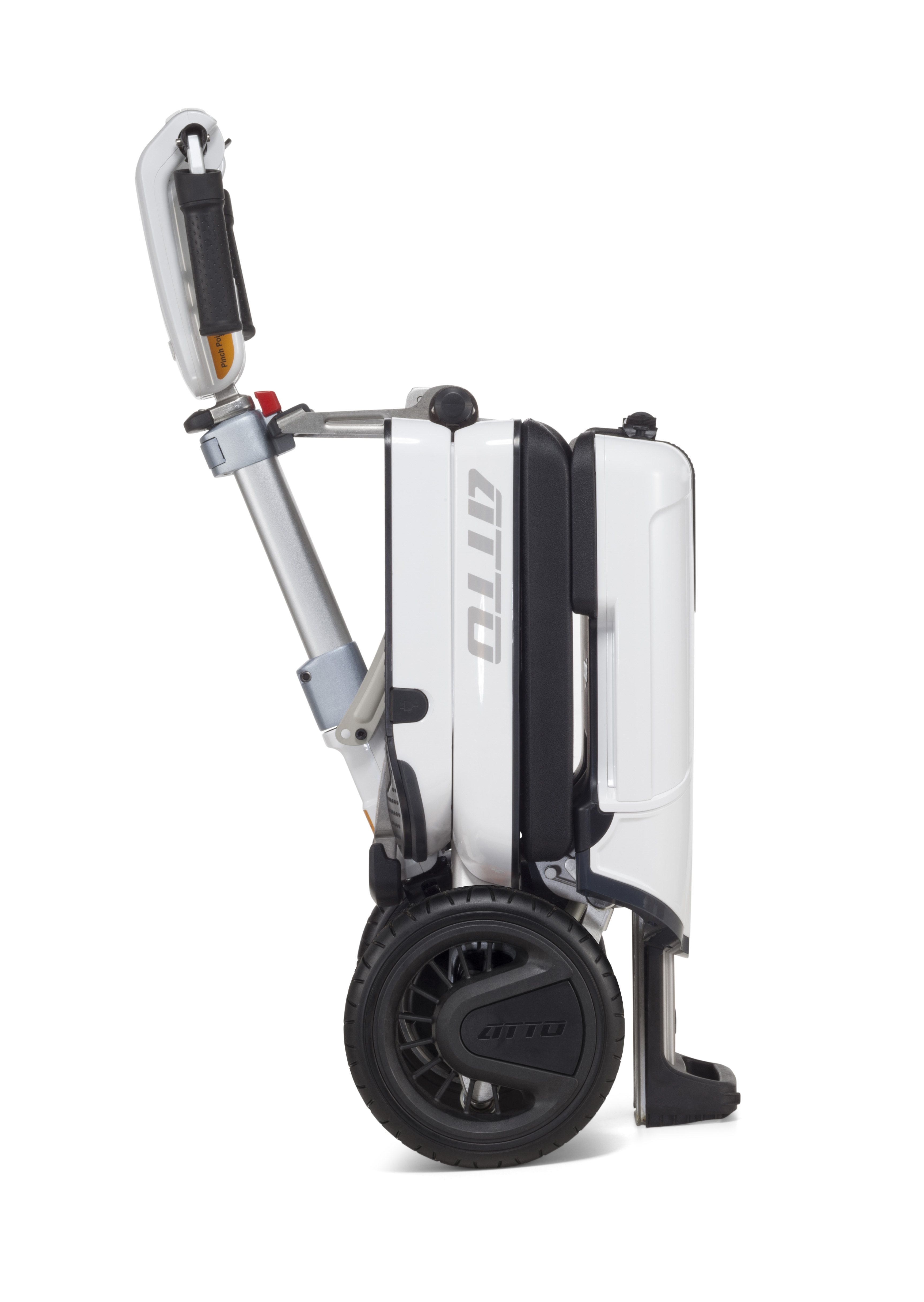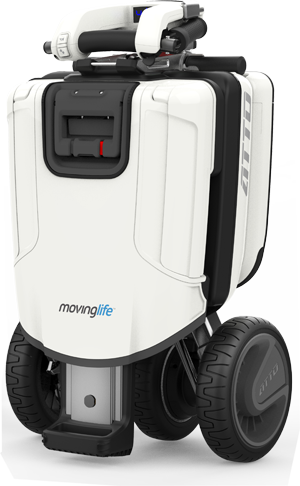 ATTO Mobility Scooter
ATTO Folding Mobility Scooter
The ATTO from Moving Life is a folding mobility scooter designed to fold compactly into a small suitcase like package or into a trolley style that allows the scooter to be pulled around. It can also be split apart into two smaller lighter components that can more easily be lifted into and out of a vehicle or stowed away in small spaces. All the transformations can be quickly done easily without the need of tools.
In addition to being a great all around scooter the ATTO has a variety of features and options that make it great for traveling. The manufacturer has designed the scooter battery to be acceptable to most airlines and can provide an optional cable kit that will allow the ATTO to be charged in many foreign countries with different voltages and plug types.
Features
ATTO provides an unbeatable young and high-tech design.
Fully customized brushless, permanent magnet, DC motor
48 Volt lithium-ion battery – 12 mile (20-km) range on a 4- to 5-hour charge
ATTO can be split into 2 lightweight parts which allows you to lift it with an ease.
3 fixed heights ranging 22 to 24 inches (56 to 61 cm) from the ground. with special 4th seat height for kids
ATTO can be easily folded into a trolley suitcase which you can carry with you on the train or plane.
Specifications
Front half: 26.4 lb (12 Kg)
Rear half: 35.7 lb (16.2 Kg)
Assembled: 62.2 lb (28.2 Kg)
The battery weighs 4.1 lb (1.85 Kg)
Motor
Fully customized
Brushless
Permanent magnet
DC Motor
Robust braking mechanism
Limits
6 degrees maximum incline
53 inches (135 cm) turning radius
4 mph (6.4 km/h) maximum speed*
265 lb (120 Kg) maximum user weight
5 feet (150 cm) minimum user height
Materials
Aviation-grade aluminum
High-tech plastics
Nylon-enforced ABS
PU filled non-pneumatic tires
Battery
Safety certification: IEC 62133
Sea and Air Transport certification: UN 38.3
250 W/h capacity
48-volt "non-spillable" lithium-Ion battery
A 4 to 5 hour charge delivers up to 12 miles (19.3 km) of continuous driving on average*.
Charger
UL and CE-approved
Self-shutdown functionality
110-240V AC
Safety Testing
Safety: EN12184 Labeling: ISO 7176-15 EMC: ISO 7176-21
Risk Management: ISO 14971
Regulatory Compliance: EEC: Annex V of 93/42/EEC
*Scooter speed & range will depend on user weight, battery condition and type of terrain being driven on.
Videos
Downloads
Warranty Information
Two-year limited warranty – Structural frame components, including mobility scooter chassis, steering mechanism, seat mechanism, rear wheels extensions, welds on entire products.
Two-year limited warranty – All electronic parts, including controllers and battery chargers. Servicing to the controller or battery charger must be carried out by an authorized Moving Life dealer. Any attempt to open or dismantle these items renders the guarantee void on that item.
Two-year limited warranty – Drive train, including motor, front wheel fork and brake.
One-year limited warranty – Batteries are covered by a one-year warranty from the original manufacturer. Gradual deterioration in battery performance due to not following usage instructions specified in owner's manual or worn out through heavy use is not covered.
Canadian Distributor/Manufacturer's Rep.
HPU Medical Wholesale
34 Futurity Gate, Unit 15
Vaughan, ON L4K 1S6
Phone: 1-888-634-5808
Phone: 416-739-1267
Fax: 416-739-7171

For more information please visit hpurehab.com/atto-scoote.html or email info@hpurehab.com