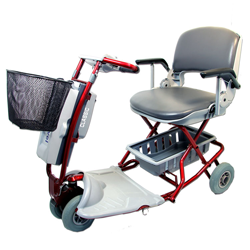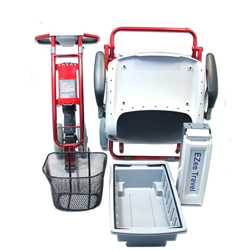 Ezee Classic Scooter
EZee Classic Mobility Scooter
The EZee Classic electric scooters are small lightweight front wheel drive mobility scooters that are super light, easily disassemble into four parts and can be folded for easy transportation. Because this mobility scooter easily breaks down into pieces it can be transported in almost any vehicle yet is strong enough to carry adults up to 250 pounds (115 kgs) in weight!
This mobility scooter has a dual front wheel set up that provides more stability than a three wheeled scooter but still has a maneuverability that is superior to a four wheeled scooter.
With its battery pack mounted on the tiller handle it can be removed without the user having to bend over. The re-charge time for the batteries will be between 7 and 10 hours depending on the state of discharge and battery condition.
Features
Compact and light design
Ergonomically designed for comfort and functionality
Easily disassembles
Easy to transport in most vehicles
Store in tight places quickly and easily
Detach the battery pack and carry inside for recharging
Sturdy enough to be the primary scooter for a 115 kg (250 lbs) person
The complete disassembly of the Classic is done without tools
The front column is detachable from the base without bending
The battery pack is removable by lifting a handle positioned at hip height
The Classic can be transported in the trunk of any standard family car
Leave your scooter in the trunk just bring the battery indoors for recharging
The Classic may be checked-in with your airline. Batteries are Air Travel Friendly
There are no heavy ground-level parts to be lifted
Specifications
| | |
| --- | --- |
| Drive Type: | Front Wheel Drive |
| Maximum Speed: | Up to 6 kph (4 mph) |
| Max Capacity: | 115 kg (250 lb) |
| Length: | 104 cm (41 in) |
| Width: | 57 cm (22 in) |
| Height: | 86 cm (34 in) |
| Distance on Full Battery*: | Up to 8 km (5 miles) |
| Incline Capability: | 6 degrees (10%) |
| Scooter Weight: | 28 kg (67 lbs) |
| Battery: | Sealed 7 A/h battery |
*Scooter range will depend on user weight, battery condition and type of terrain being driven on.
Warranty Information
EZee Life™ products carry a one year warranty against manufacturing defects, faulty materials and workmanship only.
Any alterations, misuse, abuse, or accidental damage voids this warranty. EZee Life™ reserves the right to replace or repair any part that has become defective.
The warranty does not extend to consequential costs resulting from the fault or defect of the product: freight and travel costs, loss of earnings, or other expenses that one may incur.
Warranty is valid for the original purchaser only and the original receipt must be presented before any warranty options are considered. Please also be prepared to provide the date of purchase and serial number.
Canadian Distributor/Manufacturer's Rep.
HPU Rehab
34 Futurity Gate, Unit 15
Vaughan, ON L4K 1S6
Phone: 1-888-634-5808
Phone: 416-739-1267
Fax: 416-739-7171

For more information please visit www.hpurehab.com or email info@hpurehab.com