Stair Lifts
Stair lifts, or chair lifts, or stair chairs as they are sometimes known, are basically chairs which climb up a staircase for people who can't, or find it difficult to climb stairs . A standard installation involves attaching a rail of some sort to the stairs for the chair to travel on, installation of the chair on the rail and installation of call/send switches mounted at both the top and bottom of the staircase.
Some models are battery operated and some are plugged directly into the house electrical wiring. The battery operated models are great if there is a power failure but eventually the battery will need to be replaced. The house wired systems are virtually maintenance free but won't work in a power failure. Hand cranks are sometimes supplied with stairlifts but unless there is someone else around who is fairly fit, and has the time and energy to turn the hand crank, the user will have to try and manage the stairs or wait for the power to come back on.
Stair lifts are not a product that someone confined to a wheelchair can use easily. To be able to access a stair lift the user should be able to stand at least well enough to do a standing transfer. The seat of a stair lift is usually too high for a sliding transfer and if the wheelchair user is able to transfer to the stairlift and travel up the stairs they'll need a second wheelchair at the top of the stairs.
There are many models of stair lifts but they all have basically the same features and operate the same way. When choosing one to purchase you'll have to make some basic decisions such as battery operated or not and whether you want installation on the left side or right side of the stairs. If you think you may move in the next five years or so, you'll want a unit that can be changed from a right hand installation to a left hand installation or visa versa and you'll probably want the option of adapting it for longer or shorter staircases than you currently have.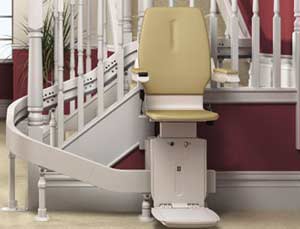 Acorn Superglide
One other consideration when purchasing a stairlift is the physical prognosis of the person using the lift. If their condition is likely to deteriorate to the point where accessing the seat is quite difficult or even impossible in the foreseeable future, you may be better off to look at different options to get upstairs before investing in a stair lift. The costs of stair lifts vary from about $1,500.00 to $3,000.00 for straight units and $5,000.00 to $20,000.00 for curved units.
Some models can be built to install on outside curves or inside curves, others can handle flat landings with curves, some can manage large radius curves and others small radius curves, some can handle top and/or bottom overruns and some can manage combinations of these configurations.
Most stairlifts have a seat belt, locking swivel seats and safety switches which will stop the unit's travel if the stair lift comes in contact with obstacles, pets or people.