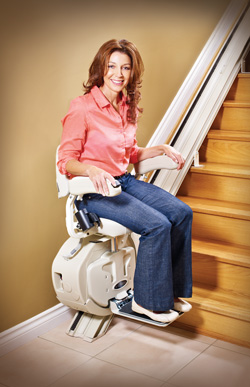 Savaria SL1000 Stairlift
Stair Lift Safety Features
Stair lifts are powerful pieces of equipment and can pose a risk to both the user and others if not used properly. In spite of the doing everything properly there is still the chance of accident caused by people, animals or things the user has no control over. In order to minimize the risk to everyone and every thing the designers of stair lifts build in some basic safety features.
Seat Belt - The seat belt is the most basic of the safety devices built into the stair lift. Should the user fall out of the stair lift seat at any point along the travel of the stair lift they can be severely injured and the use of the seat belt will prevent such an accident.
Automatic Seat Lock - Almost all stair lifts will have a swivel seat at one end of the travel and many swivel at both ends. Needless to say using a stair lift without the seat locked in position will be a hazard to the user both while traveling up the stairs and while getting on or off the stair lift seat.
Seat Lock Switch - Many models of stair lift have seat lock switch that will prevent the lift from operating unless the seat is locked in the proper position.
Arm Position Switch - Like the seat lock switch, some stair lifts have switches that prevent the stair lift chair from moving unless the arms are in the proper position.
Foot Rest Bumper Switch - Foot rests on stair lifts have micro switches along each side so the stair lift will stop if they come in contact with anything on the stairway. If the bumper hits anything during the stair lift's travel the chair will stop moving in the direction it was going until the thing that is hit is removed from the stairway. If the user is alone and can't remove the obstruction, the lift will operate in the opposite direction so they are not stranded in the chair part way along the stairway.
Momentary Activation Switch - The switch that activates the stair lift is known as a momentary switch. This type of switch only is activated when there is pressure on it and will shut down the stair lift if the pressure is released. If for any reason the user releases pressure from the switch the stair lift will automatically stop.