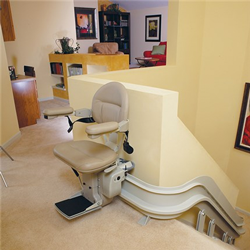 Elite Indoor Curved Stair Lift
When you need a stairlift that curves, you need a Bruno Elite Indoor Curve -- the chairlift custom built to precisely fit your home. Bruno's curved stair chair delivers a premium smooth, stable ride around every corner.
Quality craftsmanship is evident on every Bruno Elite stairlift, from the quiet, dependable ride to the plush seat. Add options such as power swivel seat, wider chair or custom fabrics to tailor-make the Bruno Elite stair lift to your needs.
Features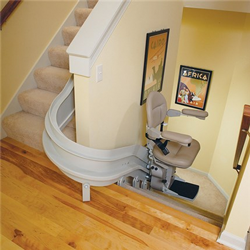 Elite stairlift capacity: 400 lbs (181 kg)
Plush, generous-size seat with multiple height adjustments
Offset swivel seat makes getting on/off safe and easy
Soft start/stop for smooth ride from start to finish
Adjustable footrest height for maximum comfort
Obstruction sensors, seat belt ensure safety
Painted rail with covered gear rack gives a sleek appearance
Flip up arms, seat, and footrest create extra space on steps
Onboard audio/visual diagnostics for easy service
Armrest rocker switch for easy operation
Two wireless call/sends allow unit to be controlled remotely
Two 12v batteries ensure dependability - even in a power outage
Bruno stairlift Gold warranty: five year major components; two-year parts
Specifications
Seat pad size: 17.5" x 15" deep (445 mm x 381 mm)
Footrest size: 10" long x 9" deep (254 x 229 mm)
Adjustable width armrests: Up to 21.75" (552mm) between arms
Weight Capacity: 400 lb (188 kg)
Options
Larger seat pad: 21.5" wide x 16" deep (546x 406 mm)
Power folding footrest: Automatically flips up/down when seat is raised/lowered.
Larger footrest: 12" long x 11" wide (305x 279 mm)
Power swivel seat: For effortless exit. Controlled on chair arm or wireless call/send.
Power or manual folding rails: For narrow hallway or when doorway is at bottom of stairs. Manual operation or push-button automatic.
Six different upholstery selections (Or supply your own fabric).
Mid-park and charge station: For staircases with middle landings allow safe entry/exit
For more information on Bruno Lifts please visit the Bruno Website.