Harmar SL350HD High Capacity Stair Lift
This model is no longer listed on the Harmar website and has probably been discontinued. I've left the information online for anyone who may need it.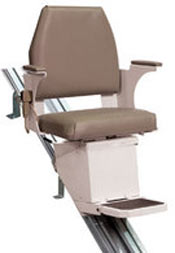 The Summit SL350HD High Capacity Stair Lift is manufactured by Harmar Mobility.
The Access Indoor High Capacity Stair Lift is the right choice when a higher weight capacity is needed. With a 500 pound weight capacity and a cable-operated system that uses steel aircraft cable rated at 4,200 pounds breaking strength, you are guaranteed a smooth and safe ride.
A 23" wide seat that swivels a full 90 degrees at the top and the bottom of the lift allows for safe entry and exit of the stair lift. This model does require that the user ride facing the track for balance and stability. It also has safety sensors on each side of the footplate which stops the lift if there are any obstructions on the track. And call/send stations both at the top and bottom of the unit makes it convenient no matter where you need it.
Features
500 pound weight capacity
23" wide seat
Requires a 36" wide staircase
Specifications
Fast, simple installation
Smooth starts and stops
Extremely safe design installs on either side of staircase
Mounts to the stairs; not the wall
Operates on standard 115 VAC household current
Extruded aluminum track is available in custom lengths
Wide, comfortable seat rotates 90 degrees at both top and bottom landings
Seat and footrest fold to save space
Lift automatically stops at top and bottom of stairs
Unit control can mount on either armrest of the seat
Separate control at top and bottom of stairs
3-year warranty on components / 5-year on drive train